Choosing a Wedding Photographer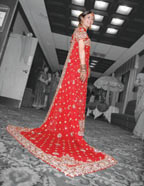 So, you're getting married… exciting, yet
daunting all at the same time! Along
with "am I really ready to spend the rest of my life with this guy?" you're probably also thinking about the million different things that go into planning a wedding. Thoughts may even be wandering to life after your special day. Many couples believe that photos from their wedding day are some of the most special in their lives, and they hope that memories will help them relive the day for many years to come.
Choosing a photographer can seem like a monumental task, but if you keep a few key points in mind while "window shopping," you will be on the right path. Most importantly, don't be afraid to ask questions – this is your wedding day, and you will want your photos to truly capture the many memories from your special event.
Professional Experience
In addition to his/her professional training, you might be interested in knowing the how many weddings the photographer has covered as well as the types and sizes of the weddings. South Asian weddings can be quite involved, so it may be doubly important to know that your photographer has experience dealing with multiple events and lots of people. Also ask to see a portfolio that ranges over a few years. This will give you a good idea of photographer's work.
Style
Related to a photographer's past experience is his/her style. Styles can be more traditional, where poses are pre-arranged, or photojournalistic in nature, where moments are captured as the occurred. Some photographers will capture details, such as clothing and decorations, whereas others will stick strictly to taking pictures of people in action. It is important to think ahead of time about how you want your special moments captured.
Final Products
Be sure to clarify how the pictures will be sent to you after the event. With digital photography in use by most professionals these days, you will no doubt have many options. Pictures may be posted online through a password-protected website, and you and your guests will be able to purchase prints directly from here. Or, the photographer may give you the negatives or images on a DVD so that you can reprint your pictures at your own convenience. Most photographers will offer to put together a professional album or a wedding package, which includes a certain number of prints and frames. Again, you will need to think about how much work you are willing to do after the big day.
Contract
As with most other wedding services, you will want to be sure to get everything in writing. In addition to basic information such as date and location of wedding, you will want to be sure to include a contact person for the wedding day. You will be too busy to worry about minor details, so be sure to designate a trustworthy person as the contact. If the photographer has agreed to put together an album, give you the negatives, or send you a DVD of the prints, be sure to include these and any final products owed you on the contract.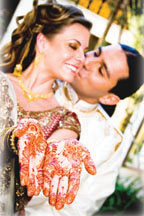 References
Couples who have recently gotten married love to talk about their planning experiences! Ask the photographer if you can contact some of his/her past customers. Hearing firsthand about someone's experience can be insightful and may help you with your final decision. Additionally, they may even be willing to share their photos with you.
Personality
While you may not think it very important to like the person lurking behind the camera, personality is a crucial. The photographer is going to be around all day, everywhere you go, and following your every move. Also, you want to be sure they aren't too demanding or pushy with your guests. Happy photographers and happy couples make for beautiful pictures!