Choosing the Right Venue For Your Vision
Author by Rina Shah The Arpan Group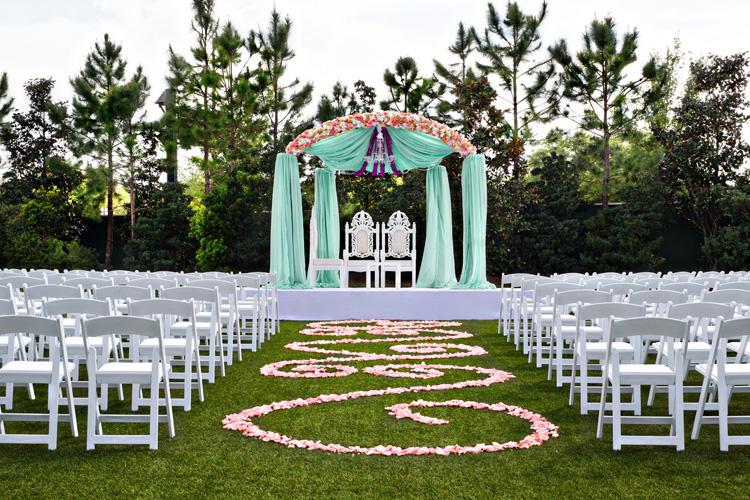 Once a couple is engaged, along with the many congratulations and best wishes from family and friends, comes the inevitable onslaught of questions. When is the big day? Have you picked a place yet? Where you choose to host your wedding will likely be one of the most difficult decisions during the planning process. The venue should not only be able to comfortably host guests, but also be a reflection of the couple's personality. Venues are not one size fit all – a space that is the perfect choice for one couple may be limiting for another.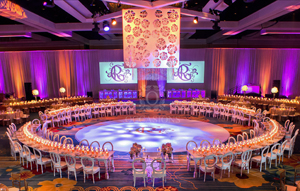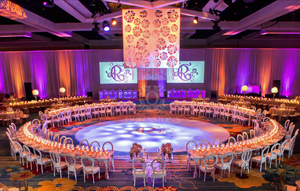 Though there are many available choices for a wedding venue, most couples have a general idea of how they want the day to unfold as well as the look and feel of the event. Kim Johnston, Director of Catering at the Marriott Palm Beach Gardens in Florida, believes that seeing the venue in person is most helpful. Choosing a venue can be a "'we'll know it when we see it' moment. Everyone has a vision of their perfect venue. Choose a venue where you are the focus of their attention. If you don't want to be one of many events, but one-of-a-kind, pick a venue that accommodates that special request."
Narrowing the Choices
Couples should begin by creating a list of their top choices. Start with your budget. Be reasonable in what you can afford while still comfortably hosting your guests. While some venues provide linen and décor services or catering, others may not, so factor these items into your budget. Consider the main aspects of a venue needed to make it your ideal space – high ceilings, lots of light, outdoor options, in-house or outside catering, accommodations, hometown or a destination wedding, etc. Andrea Constatinou, Senior Sales Catering Manager at the Hilton Orlando Bonnet Creek & Waldorf Astoria Orlando adds, "Be selective in the number of venues that you visit. Don't go crazy visiting more than 3-4 venues – as often this just causes confusion."
When considering from the many options available, couples should focus on: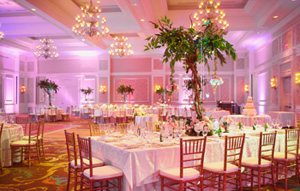 Guest list: Along with venue, this item ranks high on the list of priorities. While the number does not need to be exact, a strong estimate will help establish the size of venue needed as well as other basics like invitations, catering, and accommodations.
Logistics: Will guests be from the local area or from out-of-town? Will all events be held in once place or at multiple sites? Will the events be indoors or outdoors? What time of day will the event take place? Take all of these into account as you narrow the possibilities.
Catering: Take a look at options for food and drink. Do you have dietary or cultural restrictions? Will you need an outside caterer?
Style: Part of the fun of planning a wedding is the perfect opportunity to show off your personality. While the idea of hosting a wedding in the lobby of an art museum might sound appealing, be sure toconsider all the logistics. Will the space hold not only the guests, but also equipment for caterers? If your fantasy venue is not possible, find ways to infuse your style. As you visit venues, ask the catering or event manager to help you visualize different layouts and unique options.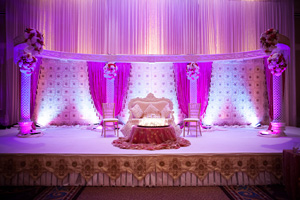 For South Asian weddings, couples should carefully consider whether the venue is aware of and can accommodate cultural needs. Teresa Bernstein, Director of Catering at the Hilton Orlando in Florida shares, "We have conversations with the family to and talk through the various cultural needs and expectations to ensure we are all on the same page. The Hilton Orlando is very familiar with cultural weddings, and we take pride is exceeding our guests expectations by immersing ourselves in the culture. The entire Hotel is engaged throughout the process, which permeates throughout the wedding."
Preparing for First Visit
Once the list of venues has been narrowed down, begin making appointments to see the space in person. Be sure to allow adequate time to walk through the property and ask all of your questions. Michelle Shulman, Marketing Director at the Bonaventure Resort & Spa in Weston, Florida, also advises couples to "have an outline of what you think you would like your dream wedding to encompass. Use Pinterest and magazines with pictures of what you would like. The more details the better." Catering and event managers have an eye both for detail and for how a space can be transformed, so share your ideas and thoughts for your wedding vision.
Be sure to have an approximate number of guests, number of events, and list of date options with you. The more details you are able to provide, the more comprehensive the proposal, which will give you a good sense of pricing and services. Rick Galipault, Director of Catering at Innisbrook Resort in Palm Harbor, Florida, reminds couples to "Be consistent in what you ask for so any proposals you receive are true 'apples to apples' comparisons." By asking the same questions at each venue, couples will be able to adequately compare the price, size, room options, and catering to get a better of sense of which space is truly the right fit.
Favorite Wedding Moments
The experts share their favorite wedding moments.
Bernstein: I always admire the fact that I get to meet so many family members since the marriage symbolizes not only the union of the Bride and Groom, but also the two families. I love getting to know both sides of the family and seeing the love that goes into planning the Bride and Groom's special day.
Constantinou: The first look…I love that moment when a couple sees each other for the first time privately…I still tear up.
Galipault: I really enjoy the Baraats; the enthusiasm and joy put into the Baraat is always amazing to see!
Johnston: When I finally get to see the bride and groom in their traditional wedding attire. So beautiful, so colorful!
Shulman: The Baraat, hands down. The joy, the music, the color and the elephant!
Featured Venues
Special thanks to the properties, all of which are well-versed in hosting successful Indian weddings, for participating in this article.
Bonaventure Resort & Spa
www.BonaventureResortandSpa.com
Innisbrook Resort & Golf Club
www.innisbrookresort.com
Hilton Orlando Bonnet Creek and Waldorf Astoria Orlando
www.hiltonorlandobonnetcreek.com
www.waldorfastoriaorlando.com
Hilton Orlando
www.thehiltonorlando.com
Marriott Palm Beach Gardens
www.Marriott.com/PBIPG
About the Author
Rina Shah is the CEO and founder of The Arpan Group, a boutique ad agency and public relations firm that specializes in capturing untouched ethnic markets. From press releases and media kits to marketing materials and by-line articles, The Arpan Group customizes solutions based on the client's needs. For more information, visit www.thearpangroup.com or call (703) 651-6670.