Ask the Wedding Expert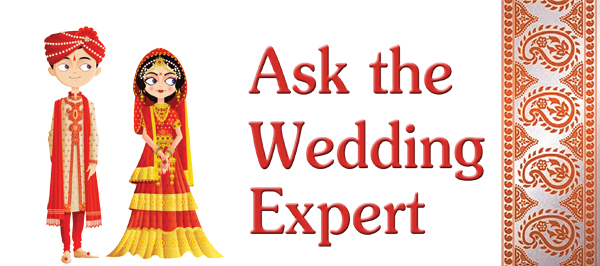 Wedding planning can be daunting, but don't worry – the experts are here to help! Send your wedding planning questions to info@deshvidesh.com.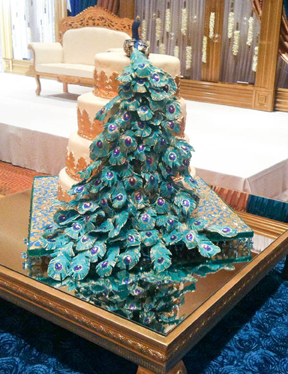 How far in advance of my wedding should I start looking for a baker?
The earlier is always the better. A lot depends on location and if it is wedding season. Also, if you have a particular custom decorator in mind, I would advise that even six months or a year is not early enough. I personally prefer two to three months advance booking. This allows me to be better aware of my calendar and give enough time to research and design the best custom creation I can.
We finally found the baker we would like to work with for our wedding. Should we prepare anything to bring to the initial meeting?
It is important that you share your vision of your dream wedding cake with the decorator of your choice. An invitation card, details on the wedding gown or jewelry, venue, linens or flowers, color scheme, number of servings, how many tiers, flavor requests, a memory that is important, pictures of cakes, and even textures are all important ideas for inspiration to me as a cake artist. Personally, I also request a conversation of what the couple would not like to see on the cake. While designing a cake, I need to consider if the reception will be outdoors or indoors. The bride and groom also need to check if the venue of their choice has any limitations or requirements that the decorator will need to adhere to. Delivery and display are equally important for the final vision, be it the lighting, the table décor, or the cake stands. Be mindful of what is included and what may be an additional cost.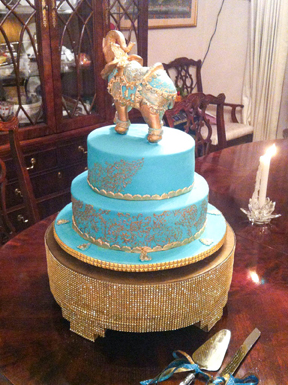 My fiancée and I have different opinions about the ideal flavor for our cake, and I really don't want two different cakes at our reception. What options do we have to get around this?
It is important to me that I incorporate every request of the bride and groom. I will also suggest multiple options. In this case we can have a cake with two or more tiers. Each can have their favorite flavor on their tier. Also, we can have a top tier that can be saved to be shared at a later date and time in a flavor of their choice. I personally do not charge extra for the different flavored tiers.
Another option is to surprise the groom with a grooms cake.
Is it too much to have a wedding cake plus a large array of desserts?
A wedding day is a day for the bride and groom to be cherished for always. They can custom design their event to be anything of their choosing. There are some gorgeous, attractive displays that can be designed with the event and the cake decorators to follow any and every theme. One would require a smaller wedding cake in this instance. Some brides still want their dream wedding cake that is ornate and opulent. With budget in mind, there are many options.
When it comes to the top tier of the cake – save it or not? How should I preserve it to ensure it tastes good (and is safe to eat!) one year later?
There are thoughts on both sides of the aisle. Again it comes to personal preference. I aim to please, but I still have to be mindful of being honest about food safety and care of the cake. I personally believe it would be nicer to have a small cake replicated by the same or another decorator for the first anniversary.
If one chooses to save the wedding cake, you need to preserve it sooner rather than later. It needs to be boxed and wrapped in multiple layers of Saran wrap, then wrapped in multiple layers of aluminium foil. Put the box in deep freeze. Temperature is important. Also, a cake is prone to absorb other flavors of food around it in the freezer. Proper care will determine if it is safe to eat a year later.
About the Expert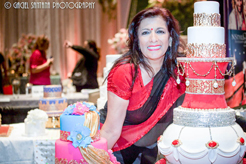 Amita Singh, owner of Cakes by Amita, has been baking cakes for over 37 years. Having always made buttercream cakes, Amita began using fondant five years ago, which opened up a new world for her! Since then, she has taken some of the best classes from renowned teachers from all over the world. These teachers have created spectacular custom cakes for Princess Diana to the Sheikhs of Saudi Arabia among many others.
In 2011, Amita entered her first cake competition and won first place in the "Dream Wedding Cakes" category. She has won numerous other competitions and been showcased in national and international magazines – something for which she is honored. Being recognized by her peers and teachers is a great compliment, and she has even been asked to teach her Indian style to others.
She believes that the most important aspect of making cakes is truly about "Celebrations of Life. Cakes are 'A Happy Moment,' a joy that lives forever. Every celebration more often than not, has a cake. Every picture of a cake includes people with smiles. What a sweet world!"