Commissioner Dale V.C. Holness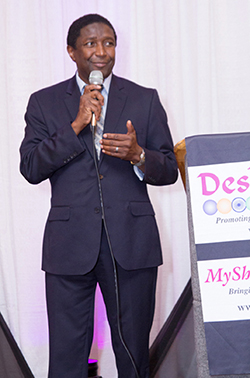 Commissioner Dale V.C. Holness
Recently named Legacy Magazine's Public Official of the Year, and South Florida Chapter of the American Society for Public Administration 2017 Elected Official of the Year, Commissioner Holness' political record is well documented in his many years of public service as a Lauderhill City Commissioner & Vice-Mayor (2007, 2010) plus his terms from November 2010 to present as a Broward County Commissioner for District 9.
An avid cricket fan and former cricket player, Commissioner Holness was instrumental in building the cricket stadium in Broward county and bringing all major cricket test matches including India Vs West Indies T20 Match to Broward county. The stadium is the only cricket venue in the United States that is certified and sanctioned by the International Cricket Council.
Broward County Commissioner Dale V.C. Holness has been inducted into the Cricket Hall of Fame as he received the Golden Age Award for his commitment to advancing cricket in the United States and the construction of the Cricket Stadium at Central Broward Regional Park.
Commissioner Holness supports capitalizing on Broward County's geographic uniqueness as the "Gateway to the Americas." He is also a strong advocate for small, minority and women-owned businesses, as well as improving economic development opportunities for all. His focus will always remain on improving the economy, getting people back to work, increasing opportunities for homeownership and helping those who are going through hard times.
Commissioner Holness is also active in many local and international civic organizations including but not limited to: Chair of the Broward Black Elected Officials; Broward County Children's Services Board; Haitian American Leadership Organization, Member; HIV Planning Council; Broward League of Cities; Lauderhill Regional Chamber, Founding Member; Broward Metropolitan Planning Organization; Caribbean Democratic Club; Broward Housing Council, Member; Broward Democratic Black Caucus; and is a NAACP Life Member.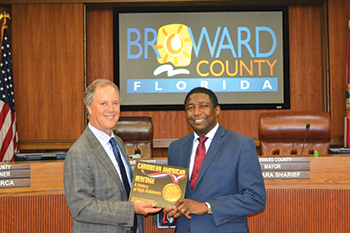 Lauderhill Chamber of Commerce was founded by Commissioner Holness a few years ago, and now includes over 200 businesses and moneys were collected and donated to the victims of Hurricane Wilma. Commissioner Holness also took the initiative to introduce KAPOW (Kids and the Power of Work) to two local Elementary Schools reaching over 160 students and expanding the possibilities for their future careers, and showing them how success in school can equal success in work, and in life.
He often visits his homeland of Jamaica to help further the country's economic and political environments. He frequents Homeowner Association Meetings, mentor ship programs and civic organizations like the Kiwanis and the Caribbean American Soccer.
In spite of all his commitments and his passion for his City, family always remains first for him. Commissioner Holness always takes time out of his busy schedule to spend quiet family time on Sundays. With children of his own, Commissioner Holness intimately understands the importance of developing our youth.