Shashi Jagadish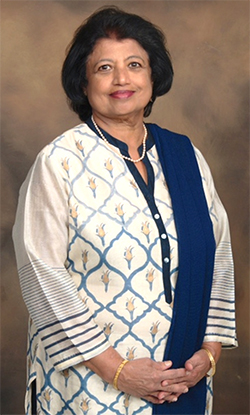 Shashi Jagadish
Dr. Shashi Jagadish is a licensed mental health counselor who has more than 30 years of experience in the field of mental health services. She was born in India where she received her doctoral degree in Psychology from the University of Mysore.
Dr. Jagadish has provided services in the private sector well as public sectors of Miami Dade and Broward Counties of South Florida in the field of domestic violence intervention, substance abuse treatment and Parenting Skills Training.  Due to an overwhelming need for domestic violence intervention in South Asian communities of South Florida, She co-founded Sahara of South Florida along with other concerned members of the community in 2004 to provide culturally sensitive victim advocacy and support.  She currently serves on the board as the Vice president and the agency has helped more than 1100 women and children.
Domestic Violence destroys families and communities. Working in this field has been challenging due to resistance in communities about discussing an unwelcome subject as well as ongoing threats from perpetrators towards victims as well as their providers. However being passionate about the need for community education and involvement to confront this epidemic, through active participation in community organizations such as Dade County Alliance against Domestic Violence, the City of Miami Commission on Status of Women, Sahara of South Florida, Dr. Jagadish has conducted, organized numerous workshops and community events.
In recognition of her services, Dr. Shashi Jagadish has been the recipient of several awards such as Dr. Dorothy Hicks Award from Domestic Violence Oversight Board, Employee of the Year Award from Department of Human Services, Outstanding Volunteer Award from Universal Heritage Institute, and Community Recognition Award from the Asian American Advisory Board.
Besides social services, Dr. Jagadish is passionate about music and was an active participant in India Fine Arts Society which focused on promotion of Indian Classical music and dance. She credits her accomplishments to love, support and encouragement from her family, friends in the community as well as her friends in Sahara. She enjoys spending time with her adorable grandsons, Arjun and Amar.