Sanjana Chandran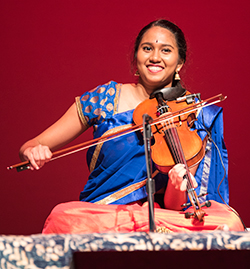 Sanjana Chandran
Sanjana has been learning Indian Classical Music on the violin from her father, Mr. Sanjay Chandran, for the past 8 years.
She has secured top honors at several leading music competitions organized by the Cleveland Aradhana, Carnatic Music Association of North America (CMANA) etc. She is the recipient of the IndianRaga Fellowship for 2015. She is also an avid composer and her original music composition was selected to represent Palm Beach County at the Florida state level in Reflections, a national arts education program.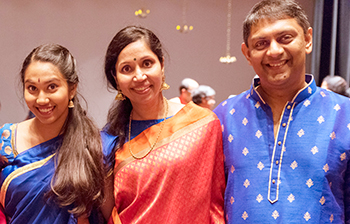 Sanjana has given full fledged concerts in Ft. Lauderdale, FL and Phoenix, AZ. Most recently, she was invited to perform a concert in Iowa City, IA, sponsored by the Iowa Arts Council. In addition, she has conducted workshops on Indian Classical Music in several public schools and universities in South Florida and Iowa. She also learns western classical music on the violin from Mr. Gustavo Correa and Bharatanatyam from Mrs. Priya Nagaraj.
Starting this Fall, she will be attending Florida Atlantic University High School and hopes to pursue a career in medicine. Besides music and dance, she also loves gymnastics and basketball.