Desh Videsh June 2020 Editorial
With blessings from Almighty, we are almost out of COVID-19 Pandemic. I say almost because we still have to be careful and aware of this "invisible enemy." We all still need to wear a mask in a public place, maintain physical social distance, and continue washing hands as frequently as possible. We also pray to the Almighty for peace all around the world.

First, let me talk about the Vedic Hindu Prayer, Shanti Path (peace prayer) recited by BAPS Pujari Harish Brahmbhatt ji on the National Day of Prayer at the White House. He said, "It is a prayer that does not seek worldly riches, success, fame, nor is it a prayer for any desire for heaven. It is a beautiful Hindu prayer for peace, shanti. It is a Vedic prayer derived from the Yajur Veda."

Speaking of peace, as you may already know, Desh-Videsh Media Group in collaboration with Florida Fine Arts has started a project, Sa Ni Dha Pa Live – Sur Sangam, which brings moments of pure bliss, peace and joy directly to you in your living room. We hope to brighten your days by bringing musical performances by talented artists from all over the world. We thank all the talented artists and overwhelming number of music lovers who have signed up for this project. Please read more about the artists who performed in May in this issue.

One of the artists who performed in May was our very own soft spoken, talented tabla player, and committed teacher, South Floridian Sudhir Limaye. He agreed very graciously to conduct an interview with us so please be sure to read "Get to Know: Sudhir Limye, Percussionist" to learn more about his accomplishments.

Now, on to one of my most favorite topics, India and its unprecedented progress. We have two articles for you to read and learn all about India's past progress and its future. One article by Alyssa Ayers, a former Obama Administration member, leading scholar of Indian foreign policy, great friend of India, and prolific writer about India, discusses her latest book Our Time Has Come. For the second article, it is my privilege to present a review of Our Time Has Come. When I began reading her book, I was so impressed with her positive outlook on India that I could not put the book aside, and I finished it one sitting. I have not read such a positive, informative, and guiding book on India from a Non-native Indian ever before.

And speaking of non-Indians who are friends of India and specifically of Hinduism, let me turn to Maria Wirth, a German who stopped in India on her way to Australia, and has now been living in India for the last forty years. She exposes hypocrisy of leading weastern countries in her article Don't Lecture India: Look at Your Own Record. She is very outspoken against anyone who talks negatively against India or Hinduism in her blog and on social media. I have seen the hypocrisy of social media (under the pretense of political correctness) like tweeters and quora when they block her posts.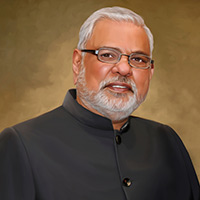 Before I close my column, let me turn to an article by Chahna Tailor, our young and talented Yoga and Ayurveda teacher who is pursuing her PhD in Ayurveda. In this issue, her article "Know Yourself Through Ayurveda," she talks about Ayurveda being accepted as an alternative medicine in the United States and the Western world. If you missed any of her previous articles, some of which talk about how to boost our immunity during COVID-19 and upcoming Flu season, read them on our website www.deshvidesh.com and select her name in the Author section.
Until next time, Be safe and Be healthy!
Raj Shah
Managing Editor
Raj Shah
Managing Editor
Blessings from Almighty
COVID Pandemic
peace
peace through out world
Vedic Hindu Prayer
Shanti
BAPS Pujari Harish Brahmbhatt
Hindu prayer
Hinduism Prayer
beautiful Hindu prayer
peace shanti
Vedic prayer
Yajur veda
DeshVidesh Media
Sa ni Dha Pa live musical performances
Indian talented artists
music lovers
Sudhir Limye
Alyssa Ayers
former Obama Administration member leading scholar
Indian foreign policy
great friend of India
positive outlook on India
informative article on India
Non-native Indian
non-Indians
Hinduism
Maria worth
hypocrisy of Indian Media
hypocrisy of leading weastern countries
invisible enemy
Shanti Path
Florida Fine Arts
National Day of Prayer
National Day of Prayer at the White House
Sur Sangam in your living room
Sur Sangam
talented tabla player
tabla teacher
South Florida tabla player
Percussionist
India's unprecedented progress. Our Time Has Come
Hypocrisy of social media
Chahna Tailor
Don't Lecture India: Look at Your Own Record. Ayurveda
Yoga and Ayurveda teacher PhD in Ayurveda
Know Yourself Through Ayurveda