Sa Ni Dha Pa Live – Sur Sangam in Your Living Room: A new music series that aims to brighten your day!
By Raj Shah, Managing Editor, Desh-Videsh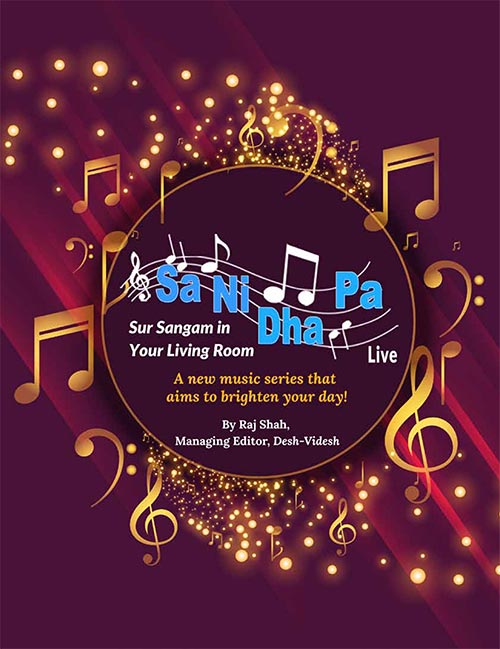 Carnatic Edition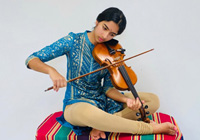 Janani Nagaraj, Violin and Vocal
Semi-Classical/Ghazal
Janani Nagaraj, Sophomore, has been classically trained in violin, vocal and dance since the age of 5. She has been learning violin from Shri. Sanjay Chandran. For her first three years of Carnatic vocal, she was trained by her mother Smt. Priya Nagaraj. From the age of 8, she has been under the tutelage of Shri. Ajay Namboodiri. Furthermore, she has been trained in Bharatanatyam by her mother Smt. Priya Nagaraj. Janani has also been classically trained in piano since the age of 7 and has been consecutively awarded top accolades in the National Piano Guild and Royal Conservatory Program.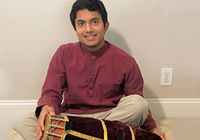 Rohit Warier, Mridangam
Hindustani Classical/Semi-Classical
Rohit Warier started learning mridangam from Dr. S. Ramakrishnan at the Shiva Vishnu Temple of South Florida in 2009. He performed his mridangam arangetram in 2016. He has played the instrument at numerous educational workshops throughout South Florida. He is a member of the University of Florida chapter of SPCIMACAY, an organization which seeks to promote an awareness of Indian culture through active participation in Indian classical music and arts. He will graduate from the University of Florida in the Spring of 2021 with a Bachelor of Science in Civil Engineering.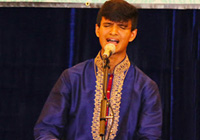 Shyam Thyagarajan, Vocal
Hindustani Classical/Semi-Classical
Shyam Thyagarajan, is a disciple of Srirangam Sri Prasanna Venkatesh, has been learning Carnatic vocal music under his tutelage for about 9 years now. He received his initial training from the age of three by his mom Smt. Radhika Murali. Shyam is a freshman in college, attending the University of Illinois, Urbana Champaign, for aerospace engineering.
He was selected for four years now as oneof the privileged students to learn from Sri. Neyveli Santhagopalan during summer music camps held in New Jersey under the auspices of the organization Yuva Sangeetha Lahari. Shyam has won several prizes starting from the age of five at CMANA Great Composer's Day and Cleveland Thyagarajaaradhanai festivals. He gave his first one-hour concert at Raga Sudha Hall, Chennai at the age of 9 under the auspices of Carnatica.