Desi TV Duniya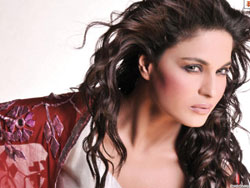 Hot and Sizzling, Moving and Shaking – Veena Has It All For Shekhar
What was once meant to be India's answer to Jay Leno and David Letterman, Shekhar and Suman may have done just a bit to keep the sassy chat show afloat. In the second season, which just began on SAB TV, viewers are disappointed with the outcome. Although many stars such as Govinda have promised to entertain, the show itself has not found too many takers.
Shekhar has one major ace up his sleeve, and that is Veena Malik. She fits into the scheme of the show perfectly. Frank and outspoken, bold and witty – she knows how to keep the audience engaged. And she has enough and more to keep Shekhar in genial spirits too! Will this charm work, or just fall flat like many other promises? Look out and see.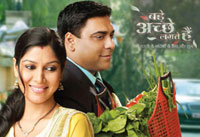 Mature Love Beats Teen Romance
It looks like television dynamics and viewers have truly matured. In several aspects, we see evolved themes and stories finding more acceptance – in shows with a social message or on television, which is based more on reality. You will notice the handling of topics and love becoming more relatable.
It seems the trend today leans towards mature romance and greater issues, as opposed to teen crushes and puppy love. In several shows that include Bade Achche Lagte Hain and Kuch To Log Kahenge on Sony Television, we are actually privy to tender, emotional handling of love, which seem to appeal to the sensibilities of the audience at large. In fact, shows like Punar Vivah on Zee TV has even taken on the issue of remarriage in its theme. Close to follow is Na Bole Tum Na Maine Kuch Kaha on Colors. This is the new age of television, watch and find what it's all about.
What Are People Saying – Kuch To Log Kahenge
Although it has not been very long since the show Kuch To Log Kahenge begun its telecast on Sony TV, things have already started to unravel. The main male lead Monish Behl has quit and been replaced by Sharad Kelkar. The apparent reason for his exit is the fact that he was made to shoot for many days beyond what was first decided, and this has taken a toll on his health. Now we all know that Monish Behl is a popular figure and has his own fan following. Most of them are rather upset at his absence, and ratings of the show have slipped significantly. However, the show has managed to stay on its feet and hold fort. With a stronger plot and nuances, the show has managed to keep afloat. Sharad, too seems to have found new acceptance and is working his way into their heart.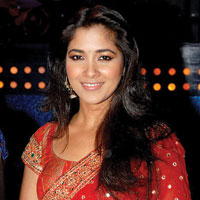 Young Mother Set to Shine
Narayani Shastri is all of 33 and at her prime. She is at a stage where she can demand the most glamorous roles, given that age and beauty are both by her side. However, stepping aside from what her contemporaries are doing, Narayani has chosen to try the role of mother. Now there are several yummy mummies who are all over, taking their kids to school and accompanying them to the park. Narayani, though, will play mother to a grown up daughter.
Zee TV is set to bring Phir Bhi Subah Hogi where Narayani will have a chance to prove her mettle. She seems rather sensible, claiming that she is only concerned with how good the role and story are and not just by how good they will make her look to the audience. It is rare to find people who are unfazed by stereotypes. If Narayani really feels what she claims, then this show could really be one to watch for.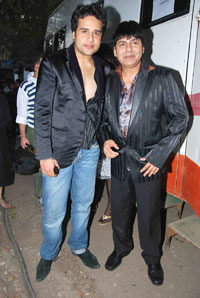 Music Triumphs Over Comedy
Comedy Circus and its many seasons have been a riot with the viewers for several years. In its different forms, it has been the most popular shows on Sony TV. It is a blow to viewers who look forward to their weekend dose of relaxation and laughter. Especially in the last few seasons, which have brought together talents like Kapil Sharma, Krishna and Sudesh, the show has transformed stand up comedy in India completely. However, the show will drop its curtains and bid farewell to make way for the new season of Indian Idol, slated to begin sometime this May. This is truly a tragedy, for while music is food for the soul, it is only laughter that gives it life.