Desi TV Duniya
Television Readies For New Swayamvar
After three seasons of reality show Swayamvar on NDTV Imagine, there is already hot news that is brewing about the possible fourth. This season is slated to have sensational Veena Malik chose her life partner. There is so much to go by that this news is most likely to be true. Veena is no stranger to reality television after her appearance on Big Boss 4. She also seems to have a flair for love. With cricketer Mohammad Asif, and then movie star Ashmit Patel, maybe Veena will find true love on this show.
If not just for love, Veena has more reason to take up the offer. The channel is reportedly offering Veena USD 600,000 for her appearance on the show where she can select her partner, but not marry him right away. They have made it more lucrative by throwing in an additional USD 200,000 provided she marry on the show. Will she say 'I do' to this.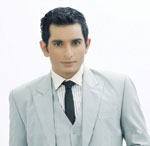 Many people have huge hopes pinned on the propitious date – 11th November. This is special since it reads 11.11.11 this year, not a common occurrence. While people are keeping their fingers crossed and hoping for the best, actor Siddhant Karnick seems to have got lucky for sure.
11.11 has been chosen as the date for release of his latest film, which is called Project 11, which has been made by 11 directors who are from various parts of the world. Now, this can truly explain Siddhant's absence from the small screen. Although he has not starred in very many serials, he made a memorable impact on Pyaar Kii Ye Ek Kahaani on Star One as a vampire. While this may sound a little chilling, he is by far the most handsome vampire you can imagine seeing. So from being something of a bat, he now takes on the role of a gamer with dark shades in Project 11. While this is certainly his lucky break, we wonder what luck Project 11 will see on 11.11.11.