Kapil Sharma Show, Ishqbaaz, Kanpur Wale Khuranas on Desi TV

Kapil Sharma returns to TV with The Kapil Sharma Show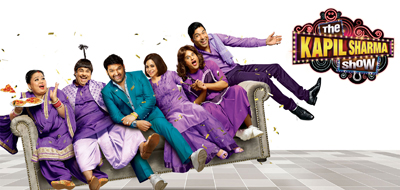 Indian TV's favorite comedian Kapil Sharma is back again with a brand new season of The Kapil Sharma Show on Sony Entertainment Television. The show will air every weekend. It features some old cast members like Kiku Sharda, Chandan Prabhakar, and Sumona Chakravarti. There will be some new faces joining Kapil as well this season, like Bharti Singh and Krushna Abhishek.The Kapil Sharma Show has returned with an all-new avatar as the storyline is now woven around Kapil running a Sharma Bandhu Salah center. All the other actors portray characters living in his neighborhood. Bharti Singh plays Titli Yadav, wife of Bachcha Yadav (Kiku Sharda). Sumona plays Titli's sister, Bhoori, who is smitten by Kapil. Navjot Singh Sidhu will also be returning with the show to entertain the audience with his 'shayaris'.The show was launched on December 29 with Ranveer Singh, Sara Ali Khan, Soni Sood, and Rohit Shetty joining the cast for the promotion of their film Simmba. The new season has been co-produced by Salman Khan Television (SK TV) and Banijay Asia. The actor had been on a break since his previous show Family Time with Kapil Sharma was wrapped abruptly due to his poor health.
The Kapil Sharma Show
Sony Entertainment Television
Kiku Sharda
Chandan Prabhakar
Sumona Chakravarti
Bharti Singh
Krushna Abhishek
Navjot Singh Sidhu
Ranveer Singh
Sara Ali Khan
Sonu Sood
Rohit Shetty
Simmba
Salman Khan
Family Time with Kapil Sharma
Star Plus' TV Show Ishqbaaz takes a generation leap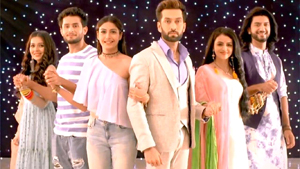 One of the hit TV shows of Star Plus has taken a generation leap with most of the old cast being eliminated. Actor Nakuul Mehta has been retained in the new season as Shivaansh Singh Oberoi, son of Shivaay (Nakuul) and Anika (Surbhi Chandna). Post leap, Nakuul is seen donning a brand new look, complete with a funky hairstyle.
A few weeks before the leap, the makers had released promos that showed the earlier main characters, Shivaay and Anika, talking about their son, which gave the fans a brief insight into the new storyline. Shivaansh plays a carefree, successful rockstar, who is quite unlike his father Shivaay, who was a sophisticated businessman. The old story concluded with Shivaay and Anika dying in a mysterious car accident, and the new story will take that thread forward along with some new characters. In the new show debutant actress Manjiri Pupala is playing Aditi, a police office, and Shivaansh's love interest.
Before the leap happened, Nakuul Mehta and Surbhi Chandna took to social media to bid an emotional farewell to their characters, Shivaay and Anika respectively. With the leap and the new storyline, the show's name has got a makeover as well – Ishqbaaz: Pyaar Ki Ek Dhinchaak Kahaani.
Star Plus
Ishqbaaz
Nakuul Mehta
Shivaansh Singh Oberoi
Surbhi Chandna
Manjiri Pupala
Ishqbaaz: Pyaar Ki Ek Dhinchaak Kahaani
Colors TV launches Two New Shows, Tantra & Sitara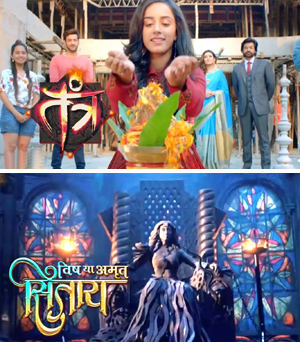 Colors TV has launched two new shows in December 2018, Tantra & Sitara. These shows will be replacing Silsila and Bepannaah, which have been discontinued by the channel.
Tantra, produced by Swatik Pictures' is about a family that has fallen prey to incantation when they enter their new house. As the affluent Khanna's move into their dream home Jalsa, they become victims of Tantra. Actress Sargun Kaur plays the protagonist Niyati Khanna, and actor Gautam Vig plays Akshat, her love interest. Also joining the cast are some celebrated TV actors, including Manish Goel and Juhi Parmar. Speaking about Tantra, Nina Elavia Jaipuria – Head, Hindi and Kids TV Network at Viacom18, said, "At Colors we have always provided varied and diverse content choices and experiences to our viewers. Our intriguing and captivating sagas continue to engage audiences and create benchmarks in storytelling and scale. With Tantra, we continue to explore another interesting and intriguing genre that is sure to provide viewers with an edge of the seat experience."
The second show Vish Ya Amrit- Sitara, produced by Rashmi Sharma Telefilms' is a supernatural thriller based on the concept of 'vishkanyas'. The show stars Adaa Khan as the protagonist, Sitara. It also stars Shilpa Saklani, Arhaan Behll, Falaq Naaz, Lavina Tandon, Shakti Anand, and Sandeep Baswana.
Colors TV
Tantra
Vish Ya Amrit- Sitara
Silsila
Bepannaah
Sargun Kaur
Niyati Khanna
Gautam Vig
Manish Goel
Juhi Parmar
Tantra
Nina Elavia Jaipuria
Rashmi Sharma
Adaa Khan
Shilpa Saklani
Arhaan Behll
Falaq Naaz
Lavina Tandon
Shakti Anand
Sandeep Baswana
Sunil Grover's new Comedy Show Kanpur Wale Khuranas on Star Plus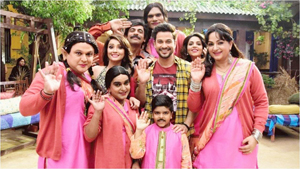 After his very public spat with Kapil Sharma, comedian and actor Sunil Grover is now back on television with a new show. After a short break, the actor is back on Star Plus with Kanpur Wale Khuranas.
This is not the first time Sunil went his own way with a TV show. His first show as a lead, Mad In India had turned out to be a debacle, forcing the actor to join Kapil Sharma show. But after their public fallout last year, he is now back with Kanpur Wale Khuranas.
The show's cast includes Ali Asgar, Upasana Singh, and Sugandha Mishra, who too were a part of Kapil Sharma's earlier show, Comedy Nights With Kapil. Sisters Preeti and Neeti Simoes, who were earlier creative directors for Kapil Sharma's show, have produced Kanpur Wale Khuranas. Also joining the team is director Farah Khan and actor Aparshakti Khurana. TV actress Adaa Khan is also a part of the show, playing Sunil Grover's on-screen wife.
Before the show was launched, Sunil Grover told news agency PTI in a statement, "I am happy to be back on the small screen with a fresh concept. This character is unlike any I've played before and I am very excited to embark on this journey of entertaining my viewers."
Sunil Grover
Kanpur Wale Khuranas
Mad In India
Ali Asgar
Upasana Singh
Sugandha Mishra
Neeti Simoes
Farah Khan
Aparshakti Khurana
Actor Armaan Kohli arrested for Illegal Possession of Liquor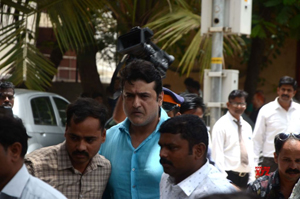 Bollywood and TV's controversial actor Armaan Kohli once made headlines for all the wrong reasons when the Excise department arrested him for illegal possession of liquor. Bandra excise department raided the Ex-Bigg Boss contestant's Mumbai residence, and he was caught for possessing 41 bottles of scotch whiskey, majority of which were purchased overseas. According to law, a person cannot keep more than 12 hard liquor bottles at home for a month.
Apart from the 41 bottles, officials also found 35 empty alcohol bottles at his house, which had been consumed at private parties. After spending a night at the Bandra excise office, the actor was granted bail, with a bond of Rs. 20,000.
This is not the first time the actor has found himself on the wrong side of the law. In June this year, Armaan was arrested for assaulting his former girlfriend Neeru Randhawa, who later took back her case against him. Also, earlier this month another FIR was lodged against him for allegedly verbally and physically abusing a fashion designer.
Kohli made his Bollywood debut in 1992 with Virodhi. He was last seen on-screen in the Salman Khan film Prem Ratan Dhan Payo. He was also a participant in Bigg Boss 7.
Armaan Kohli
Bigg Boss 7
Neeru Randhawa
Virodhi
Prem Ratan Dhan Payo