Devoleena Comments on BFF Rashmi-Siddharth Tea Spat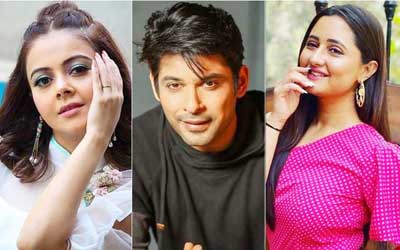 Big Boss 13 was full of controversies and rumors. Big Boss delivered a healthy dose of all emotional boomerangs like action, love, laughter, drama and romance but it was the fights and spats of Big Boss that brought the most attention. All through the season, verbal arguments, fights and sparring happened between the contestants. Almost all participants fought with each other. However, one fight was uglier than most and even put off Salman Khan (the star is known for high spat tolerance level). Most Big Boss viewers would have guessed that the topic here is Rashami Desai and Siddharth Shukla's disgusting tea fight.
In the Weekend ka Vaar episodes, the Dil se Dil tak co-stars engaged in a horrible fight with each other that stunned host Salman Khan. The fight happened after Siddharth called Rashami "Aisi Ladki." The argument snowballed after Rashami demanded an explanation of the ugly comments Siddharth made about her. She also gave some counter insults that further complicated things. The icing on the cake was when Rashmi splashed tea at Siddharth making him furious. The two starlets showed their worst sides to the public in this ugly public spat.
Recently, Devoleena Bhattacharjee made a cunning comment to Rashmi on social media when she tweeted "happy international tea day Rashmi Desai." The incident happened in May when Devoleena tweeted with many emojis, and Rashmi responded with laughter emojis. Fans of Siddhartha and Rashmi were reminded of the incident and they started commenting!
happy international tea day Rashmi Desai
Devoleena Bhattacharjee
Aisi Ladki
Dil se dil tak
Weekend ka Vaar
Siddharth Shukla
Rashami Desai
Salman Khan
fights and spats of Big Boss
Big Boss 13 controversies and rumors