Divyanka Tripathi Commands Attention with Candid Pictures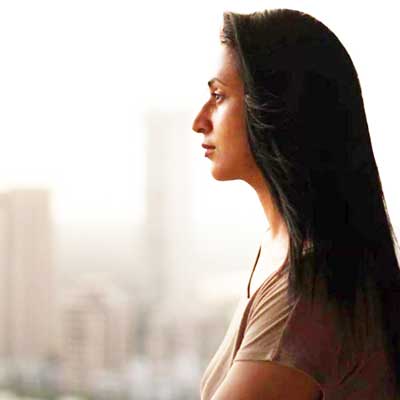 The COVID-19 pandemic has wreaked havoc in India and lockdown has restricted movements of citizens. In these depressing and fearful times, norms of social distancing and limited movements have to be followed diligently. For many, staying at home is the new normal now and everyone is using virtual communication to maintain contact with each other. TV celebrities like Divyanka Tripathi (Yeh hai Mohhabatein fame) are no exception.
The beautiful lady keeps sharing pictures and videos of herself and her family with fans via social media. Messages, updates, and inspirational posts cement her bond with fans and well-wishers. Divyanka has participated in many AMA sessions to resolve concerns and questions posed by fans. The actress was last seen on Intezaar and has many fans on different social media platforms.
Recently, Divyanka shared a nice picture of herself in which she wore a light brown t-shirt and was staring contemplatively at the horizon. The caption ( in Hindi) was quite poetic and a fair translation would be "the first page of a new book." Divyanka has managed to gain a lot of popularity from her posts and this picture has already gained massive appreciation.
Many of Divyanka's posts after marriage revolve around PDA sessions with her husband Vivek Dahiya. The two are seen light heartedly goofing around and indulging in romantic moments and the public laps up these posts. Divyanka married Vivek in 2016, and they are partnering well even in lockdown times. They grocery shop, cook, and clean together and share these posts on social media. The couple also reminds fans to maintain social distancing norms.
Divyanka's most popular TV show is Yeh Hai Mohabattein in which her chemistry with co-star Karan Patel was much appreciated. This Ekta Kapoor serial also starred Vivek Dahiya (for a short time). Divyanka also made her digital debut in 2018 with a web series.
Corona lockdown
Divyanka Tripathi
Yeh hai mohhabatein
AMA sessions
the first page of a new book
Vivek Dahiya,
social distancing
popular TV
Ekta Kapoor soap
digital debut in 2018
web series
PDA sessions
Intezaar