Dipika Kakar Returns to Sasural Simar Ka 2
Sasural Simar Ka, Sasural Simar Ka 2, Sasural Simar Ka 2 Telecast Date, Dipika Kakar, Shoaib Ibrahim, Sasural Simar Ka season 2 cast, DipikaKakar age, DipikaKakar husband, Dipika Kakar and Shoaib Ibrahim marriage date
 Sasural Simar Ka, the popular family drama on Colors TV is back with a sequel. Sasural Simar Ka 2 airs soon, though the telecast date is yet to be announced.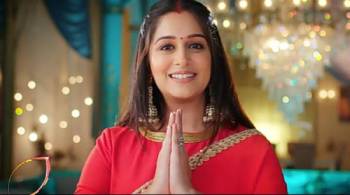 Sasural Simar Ka is a story of Simar, a middle-class girl from Vrindavan married to Prem, the eldest son of the Bharadwaj family. The family is led by Mataji, the grandmother of Prem. Eventually, Simar's younger sister Roli gets married to Prem's younger brother Siddhant. The story centers on how the two sisters become the ideal housewives managing all aspects of duties and responsibilities.
Dipika Kakar played Simar and became a household name. Shoaib Ibrahim played her husband Prem, however, he quit the show midway and was replaced. Dipika was already married when she started shooting for Sasural Simar Ka. However, she fell in love with Shoaib and after her separation from her first husband in 2015; she married Shoaib in February 2018.
Sasural Simar Ka Season 2 focuses on the younger generation and new themes. There is a buzz that Shoaib will be back as Prem. However, no confirmation has been made yet. Avinash Mukherjee, Akash Jagga, will also be playing lead roles in the show.
Sasural Simar Ka
Sasural Simar Ka 2
Sasural Simar Ka 2 Telecast Date
Dipika Kakar, Shoaib Ibrahim
Sasural Simar Ka season 2 cast
DipikaKakar age
DipikaKakar husband
Dipika Kakar and Shoaib Ibrahim marriage date