Dulhan the Diva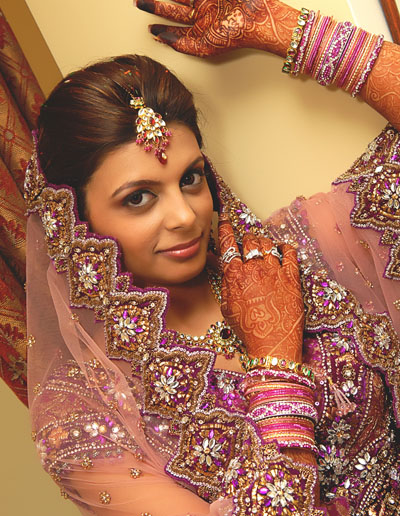 The avant-garde bridal collection in all its glittering glory showcased during the recent fashion weeks by internationally acclaimed Indian designers corroborates that lehnga-cholis, still the most sought-after wedding trousseau, have undergone scintillating twists. What's more, with its fast-evolving fashion trend, the bridal sari fad refuses to die too! Selecting the right wedding trousseau, from the wide glitzy range, is the first step towards looking your ravishing, sizzling best on D-day.
While the lehnga has moved from the traditional gathered umbrella skirt to the more slinky fish tail and mermaid silhouettes or the slim-pencil or an A-line skirt, the choli has switched styles from the short sleeve blouse to a bustier, corset, halter or spaghetti strap top. Boleros and shrugs now shape up with kurtas and cholis. The odhni (dupatta) has increased from one to two or even three depending on the bride's preference of style. "With fashion-tuned changes, there are many unique western touches which make the lehnga-choli a more acceptable outfit for the Indian as well as the western world today," says Ritu Beri, the only Asian designer to have ever headed the French fashion house, Scherrer.
The flow and flare of a wedding ensemble largely depends on one's shape and size. For someone who's short and petite, any wedding ensemble with a rich feel and intricate embroidery will work well. Smaller designs in the weave of the fabric or the embroidery suit your length. Go for a vertically embroidered design to steal a tall appearance. Opting for the eternal demure look with a flounce in your lehnga or carrying off a slim fit one with equal ease are great selections. Your choice of fabrics will come from the exotic woven lengths such as raw silk, brocade, and jacquard silk.  If tall and slim, add ample volume to your lehnga as it adds grace and softness to your appearance. Any fabric complements a tall and thin figure. Avoid too long cholis as it would make you look thin, and overlay jackets is a great alternative for brides who don't want to bare it all. Make sure the dupatta is long as it will add length and grace to your look. You can use lots of material to create an elegant flare lehnga in a slightly heavier raw silk, jamevar silk, banarasi organza or crepe tissue with a brocade choli. Shaded tones can be used to project your height. Your neckline can also be used to enhance your body frame. Go in for deep necks that are wide in the front as well as the back.  Steer clear of high necklines and long sleeves. Yours is the only body frame that can go for broad borders with elaborate embroidery.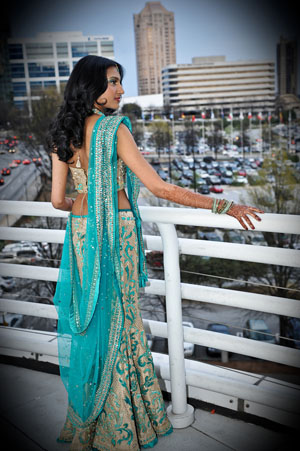 With their shapely, curvaceous figures, many brides of the day prefer draping heavy designer saris like Double Ikat Patolas of Gujarat, fine silk Kanjeevarams from the South, Paithani of Maharashtra, Ikat saris of Orissa, Banarasi saris from Uttar Pradesh, Kantha work and Balucharis from Bengal and the Uppada silk sari of Andhra Pradesh. Little wonder that ever-ravishing Aishwarya Rai, style diva Shilpa Shetty and earthy beauty Kajol have all draped themselves in saris and looked surreal on their wedding. As designer Ritu Kumar rightly puts it: "Nowhere in the world is there a fashion alternative, which constantly reinvents itself as it drapes over the head, the shoulders or around the ankles, or by the detail of weave or embroidery, colour or pattern of the fabric as our saris."
If you wish to play safe with a traditional sari or lehnga and not experiment much, you could consider being innovative with asymmetrical cuts (especially if you want a leaner look) of your blouse. Tube tops, backless cholis, halter necks and flashy blouses work well in flaunting the heavy traditional jewelry and add flamboyance to the six-yard wonder with customary craftsmanship.
Opt for sari or lehnga-choli, there is nothing like a striking color to ring in wedding celebrations. Designers predict that both rich and pastel shades will be in vogue depending on the occasion. As per fashion designer Jasbir Jamani, subtle shades of gold, silver, soft pinks, pale greens, mellow yellows and peach tones are colors of the season. Shades like turquoise, orange, aubergine, rose pink, jewel tones and tones of wine can also be ideal nuptial-time hues. The bridal collection 'Forever' by Virtues (Ashish, Viral and Vikrant), as seen at the Spring Summer 2010 Lakme Fashion Week, serves as great exemplar for looking sedate in pastels with soft pinks, beige, gold and sea green dominating the palette.
Be willing to pay a small fortune and live up to the ultimate ornate dream ensemble of any Indian bride with gorgeous rich colors, intricate craft and flowing silhouettes.