Easy and Delicious Diwali Sweets

Diwali is time for celebration, and no celebration is complete with delicious treats! While fried, sugar laden mitai are favored during the festival season, some healthier options are available – and no less tasty!

Try these recipes and share with friends and neighbors. No one can resist a delectable mitai given with love and the spirit of finding in good in all.
Coconut Truffle Ladoos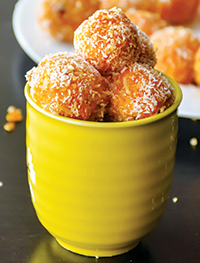 This easy to make recipe comes together in less than an hour. Make a big batch to share with friends and neighbors.Ingredients• 2 tablespoons ghee
• 2 cups dried shredded coconut
• 1⅓ cups full fat coconut milk
• 1 teaspoon ground cardamom
• ⅓ cup coconut sugar
• ¼ teaspoon salt

Directions
Warm ghee in a wide bottomed non stick pan. Add shredded coconut and stir continuously for 2-3 minutes. Toast the coconut and continue stirring until there is a fragrant smell.
Add the coconut milk and stir to combine. Bring to a boil and then add the sugar and cardamom.
Cook the mixture over low heat for 20-25 minutes. The mixture will thicken as the milk is absorbed by the coconut. Continue to watch mixture and stir frequently to avoid sticking.
Once the liquid is absorbed, turn off heat and let cool.
Using 1 tablespoon of mixture, roll into balls. If desired, roll balls in shredded coconut.
Pumpkin Halwa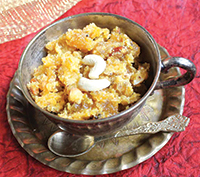 If you're looking for a modern fusion of fall and Indian inspired flavors, this is the recipe to try. Warm and comforting, pumpkin halwa is perfect to serve at your next Diwali meal!
Ingredients
• ⅓ cup ghee
• 1 medium pie pumpkin, peeled and grated
• 1 cup full fat coconut milk
• ½ cup coconut sugar (adjust to taste)
• ½ teaspoon ground cardamom
• ¼ teaspoon salt
• 2 tablespoons golden raisins
• 2 tablespoons cashew halves and slivered almonds
Directions
Heat ghee in a large, wide-bottomed nonstick pan.
Add the grated pumpkin and saute on medium for 8-10 minutes, stirring frequently until the water cooks out and the pumpkin changes color. (Prepare pumpkin by using a food processor to grate. One medium pie pumpkin should yield about 5 cups of grated pumpkin.)
Reduce heat to low, and add the milk. Cook pumpkin for about 10 minutes until soft.
Once soft, add the sugar, cardamom, salt, and raisins. Stir mixture continuously until the pumpkin thickens and becomes shiny.
Remove from heat and serve warm garnished with nuts.
Posted on: 11-2-2018 by: Deshvidesh