Eco-Friendly Wedding Favors for Your Guests
Many of us have become more environmentally conscious and aware of the resources we use and couples planning their weddings are no different. Eco-friendly weddings are on the rise, and if you are a green couple, then you are likely making conscious choices to incorporate your values and love for the environment into your wedding planning. One way to share your love with the guests is to thank them with eco-friendly favors, particularly those that can be used and give back to the environment.
Here are some eco-friendly or green options we are sure your guests will love.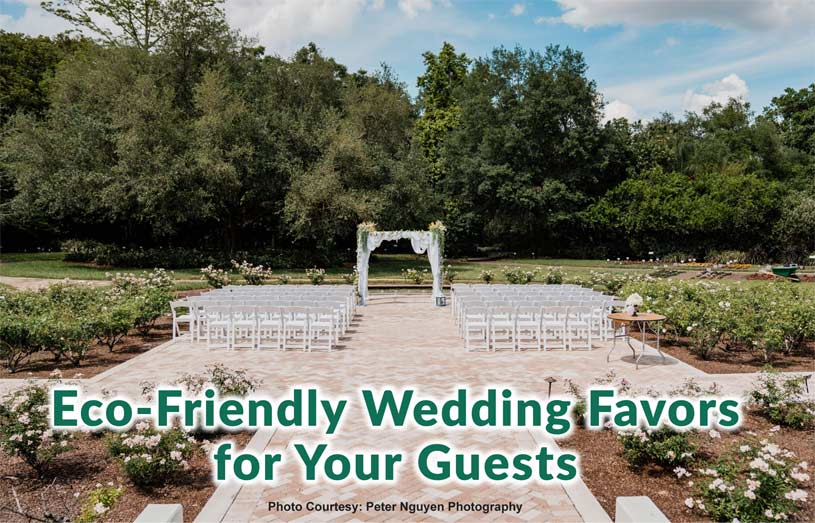 Potted Plants
Plants are a wonderful way to demonstrate your gratitude – your guest will look at it and always think of you! Opt for small, low-maintenance plants such as succulents that are easy to grow and help save water as well. Include a personal message and instructions on a label tied with a ribbon.
Seeds
If many of your guests are from out of town, consider packets of seeds instead of potted plants. Choose seeds that have a special meaning for you and can easily be grown indoors or outdoors. Some options include herbs such as basil and cilantro or a wildflower mix that attracts bees and butterflies. Customize the packet with a message and provide instructions.
Reusable Bags
Reusable bags are a wonderful gift idea to encourage a move away from plastic. Choose a durable fabric such as burlap or all-natural cotton, both of which make great options for shopping bags or lunch totes. Personalize the bags with a special quote or message.
Edible Treats
Give your guests a taste of some delicious natural and organically sourced goodies. Fill a favor-sized recyclable paper bag with small samples of fair-trade coffee blends or organic tea. Other options include vegan cookies, organic preserves and jams, fair-trade chocolate, or local, organic raw honey.
Spa Kit
After a fun-filled wedding and late nights, your guests might enjoy some waste-free and natural spa delights. Put together a small kit filled with natural soaps or organic bath salts. Essential oils, candles, and natural lotions are always a good addition to encourage some me-time.
Donation
To truly make an impact, consider forgoing a favor and making a donation in your guest's name to an environmental cause of your choice. Share this beautiful feeling with your guest by writing a cute note to them explaining your love for the environment. For the note, use seed paper the guest can take home to plant.