Editorial April 2021
Dear Readers,

The March issue of Desh-Videsh was a wedding issue, so some important events from this month were not covered. Allow us to cover those historic events in this issue. And as you know the month of March is an eventful one that includes the first day of spring, a celebration of women's history, Holi, the anniversary of the Dandi Salt March among many others.

First, let's discuss Women's History Month. Every year, several organizations worldwide celebrate the month by remembering successful women and their accomplishments in various fields. But what about all those unknown women who made enormous contributions towards making this world a better place? In this issue, we remember 15 Indian women who spent their lives not only fighting for India's independence, but also and equally important, in shaping the Indian Constitution. You may recognize some of the names such as Sarojini Naidu, Hansa Jivraj Mehta, and Sucheta Kriplani, but there are others worth remembering and honoring.

What better way to accomplish two things in one issue? This month's "Words to Live By" article features lessons from Hindu Scriptures, but more importantly, also describes what those verses teach us about respecting women and womanhood.

This issue also features several articles about historic events that occured in March and April. The article "Historic Dandi March" recaptures the history of what 61-year-old Gandhiji was able to accomplish by walking 241 miles in 25 days. The article also documents what American journalist Webb Miller reported over international media about the British regime's atrocities carried out against thousands of peaceful demonstrators. This article also includes Gandhiji's speech that took place on the eve of the Dandi March. Throughout Gandhiji 's fight against British Raj, his message was very clear: non violence and utter faith in God. To reiterate this noble principles, he says in his speech:

 I have faith in the righteousness of our cause and the purity of our weapons. And where the means are clean, there God is undoubtedly present with His blessings. And where these three combine, their defeat is an impossibility.


Even though some of India's Congress leaders including India's first Prime Minister Jawaharlal Nehru did not agree with the reasons behind the Dandi March, Gandhiji had full confidence in his actions and vision. So at the end of the march, he confidently tells the world and specifically to the British Empire, "With this, I am shaking the foundations of the British Empire." And so he did.

Speaking of the atrocities of the British regime towards innocent people in India, let us not forget what happened at Jallianwala Bagh on April 13, 1919. British General Dyer ordered open fire on over 10,000 men, women and children who were celebrating Baisakhi. The firing lasted for 15 minutes until all 1,650 rounds of bullets were fired killing more than 1,000 people and over 1,500 injured. At least 52 victims who died in the massacre were younger than 18 years old. To make matters worse, when General Dyer returned to Britain, he was given a hero's welcome.

Now let me turn to atrocities created by a Pakistani military dictator with the help from none other than the US government. Last month, Bangladesh celebrated 50 years of independence. As the article "Bangladesh at 50" describes, it was a bloody and very violent struggle for Bangladeshis. As an Indian American living in this country for more than 50 years, I have seen the US government being on the wrong side of issues numerous times. And Bangladesh's fight for their independence against Pakistan was no exception with the Nixon administration definitely on the wrong side. The administration had close ties to Pakistani military dictator Yahya Khan. Henry Kinsinger, then Secretary of State, labeled Bangladesh a "basket case" when reporting to the Nixon administration and US congress. What an arrogantly filled discriminatory statement!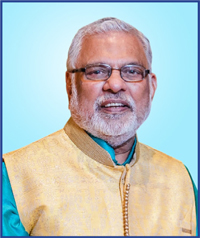 Now let me talk about an interesting and thought provoking article by Maria Wirth, a German writer who is more Hindu than many Hindus I know. Her article "What is Sanatana Dharma According to You?" was thought provoking and gave me the idea of inviting Hindus to answer this very interesting question. Please submit your thoughts for a chance to have your views published in an upcoming issue of Desh-Videsh.
Let me close my column by wishing all of you a safe and healthy spring. And don't forget about our upcoming MyShadi Bridal Expo on May 23 in Orlando!
Raj Shah
Managing Editor
Desh-Videsh wedding issue
Dandi Salt March
Women's History Month
Sarojini Naidu
Hansa Jivraj Mehta
Sucheta Kriplani
Hindu Scriptures
American journalist Webb Miller
India's Congress leaders
Gandhiji
MyShadi Bridal Expo
Sanatana Dharma