National Award for Kangana Ranaut
Kangana Ranaut does it again. The Queen gets another National Award for best actress of 2019 for two films: Manikarnika and Panga. The names of the recipients of the 67th National Film Awards were announced on Monday March 22, one day before her 34th birthday.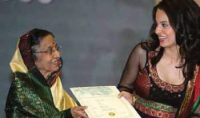 From the Himalayan state of Himachal Pradesh, Kangana had no film background or a Godfather to launch her. She achieved success by her talent alone. She debuted in Anurag Basu's Gangster in 2006. Followed by the Mohit Suri directed Woh Lamhe and then again Anurag Basu's Life in a Metro. Her acting was highly praised by critics, who even compared her to legends like Shabana Azmi and Smita Patil.
Kangana received her first National Award for best supporting actress for Madhur Bhandarkar's film Fashion in 2008. The second award was for best actress for the iconic film Queen directed by Vikas Bahl in 2014. She received the same award the following year for the film Tanu Weds Manu Returns. And this year she received it again. She has earned a total of four national awards in her 15 year career!
Click Here for More Bollywood News
Kangana Ranaut national awards 2019
Kangana Ranaut national award for which film
Kangana Ranaut national award list
how many national award Kangana Ranaut
Kangana Ranaut Instagram
Kangana Ranaut first movie
Kangana Ranaut net worth
Kangana Ranaut and controversy