Editorial
Dear Readers,
The August issue is a Fashion Issue, and if there is one thing I do not know about, it's fashion. So if I do not know what to write in this column, and my thoughts go all over the place then forgive me.
First, let me welcome our newest writer, Siddhi Desai, a multi-talented energetic young lady who has an interest in Fashion and Spirituality – and yes both are opposites! In her article, "Fashion for the Soul," she explains how to fuse Indian design and fashion with western ideas. She posed herself to show examples of her style along with the help of her talented husband Adarsh, who was the photographer.
Now let me turn to the FEMINA beauty competition. Rather than discuss how beautiful the contestants looked in their various outfits, let me discuss the brains behind their beauty. In a final round, judges ask all five finalist one question, "Who is the better teacher? Failure or success?" and the winner Anukreethy Vas told the audience that she had too many failures and that is the reason she has achieved what she has to date.
Madsen, P. M., & Desai, V. M. in their book "Failing to learn?" discovered that the knowledge gained from our failures lasts longer than those from our successes. We all know successful Walt Disney and his empire. But not too many people know that at age 22, he was fired from a Missouri newspaper for "not being creative enough." One of his early ventures, called Laugh-o-gram Studios, went bankrupt. So failure teaches you in ways success can't. It shapes you as a person and makes you resilient. If we can learn from our failures, we can make success that much closer.
And speaking of success, on August 15, 2018, we celebrate India's 72nd Independence Day. I know I could not have fit what I want to say about India's success in this column, so I decided to write a complete article, " My India, My Love." Of course you will see my bias toward India, but I think of it as my love. Please email me your comments to editor@deshvidesh.com.
After receiving so many positive comments on the poetry written by Keshav, Aarohi and Faren in our last issue, we have decided to make poetry a regular column. Please enjoy poetry by Aarohi and Faren in this issue.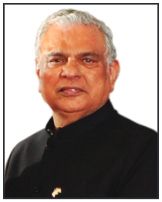 To encourage our youth, we are limiting this section only to students. If you or your child have written any poetry, please send them to editor@deshvidesh.com.
On Sunday, August 12, we hope to see you at our Ft. Lauderdale MyShadi Bridal Expo! We'll be at the Bonaventure Resort & Spa from 12 noon – 5 pm. Admission and parking are free, so stop by to meet with event planning vendors, get a start on your Navratri and Diwali shopping, and watch the designer fashion show! The MyShadi Bridal Expo will also be in Orlando on Sunday, September 16, at the Hilton Orlando. See you soon!
Raj Shah
Managing Editor