Editorial December 2019
Dear Readers,
For the last ten years, four times a year we have published wedding special issues and I have been writing my editorial columns in every issue, but never wrote a real wedding article. For the first time in this issue, I have written real wedding stories from questionnaires filled out by newlyweds, mostly brides. And it has been a very unique and heartwarming experience. Reading answers, mostly written by brides about how they met and their proposal was very heartwarming.  We have covered five love stories in this issue and everyone is different but very romantic. It has been said that when two people are destined to connect, it doesn't matter what they do, who they are, or where they live, they will surely be united! And that is exactly what happened in all five love stories. Each one of them met by pure coincidence, but all of them knew in their first meeting that they found their match. One more thing very common in all five love stories is the way the guys planned the proposal. Who says that guys cannot be romantic? I would like to commend all five men for their romantic and detailed planning, remembering what their future life partner likes and dislikes. Keep up the good work guys!
In one of the stories, I talk about the love of Radha and Krishna. Newlywed couples can take some inspiration from the eternal and blissful love of Radha and Krishna. The immortal and undying love of Radha and Krishna gives couples in a major relationship a lesson to follow throughout their married life. As all of you know, marriage is not only sharing happiness together, but sharing your sorrows and feeling each other's pain. It is also knowing likes and dislikes of your partner. Your love should be so selfless that one must feel the pain and joy the other one is going through. Feeling each other suffering with the whole heart is what makes a relationship strong and inseparable.
Let me end my love and relationship lesson here and talk about wedding planning advice. In this issue, we have covered several articles that gives some practical planning advice and more importantly some new trends in Indian weddings.
In the article, "Say NO to Reds & Pinks," we may be making a bold statement. For decades, we have seen Hindu brides in red or maroon outfits. And Hindu scripture has several explanations for wearing red outfit such as how the wedding is the start of a new phase of life and red signifies the beginning of a new phase of life as well as love, passion, and prosperity. Our scripture may have said not to wear black outfit, but it does not mention not wearing any other colors. So all of those brides planning their wedding, be bold and stand out by wearing a modern outfit in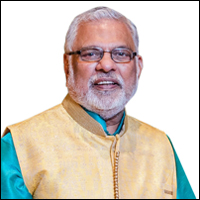 colors such as lavender, midnight blue, silver, mint green, ivory, and champagne gold.
Let me end my last column of 2019 by reminding all of you to save the date for our 2020 MyShadi Bridal Expos: March 29, 2020 in Raleigh and April 5 2020 in Orlando. See you there!
Raj Shah
Managing Editor
April
several explanations
relationship lesson
very common
major relationship lesson
so selfless
black outfit
Mint Green
married life
bold statement
very heartwarming
special issue
Champagne Gold
first meeting
undying love
Radha
real wedding stories
sharing sorrows
other suffering
red color
Hindu bride
real wedding article
other one
Raleigh
Reds
wedding planning
Midnight Blue
Bridal shows
Indian weddings
Our scripture
heartwarming experience
Ivory
modern color outfits
Pinks
editorial columns
blissful love
practical planning advice
Your love
new phase
Krishna
red outfit
pure coincidence
Orlando
Couples
love stories
very romantic
maroon color
Lavender
future life partner likes
other color, very unique
Silver, new trends
March
detailed planning
whole heart