Editorial December 2021
When we find the one we love

A soft shoulder to sleep on,

Can anything be sweeter?

[Blissfully sharing heavenly cuddles with her
Can only be compared with sharing] the divine world of the lotus-eyed god

Wow! The heartfelt confession of a man who is in love. Then the woman responds:

My beloved resides

Within my eyes.

I never paint them,

Lest he vanish

For that brief time

These love poems were written by Valluvar (also known as Thiruvalluvar) around 300 BCE in Tamil. I am sure these feelings still resonate with those newlyweds whose stories we are presenting in this wedding issue.

Once again, it is our great pleasure to present the last issue of 2021, which is also a wedding issue. In this issue, besides the love poems by Thiruvalluvar, we are bringing you seven wedding stories, including one of Rajkummar and Patralekhaa's Bollywood wedding.  Among these seven wedding stories, we have also included the wedding of our very own dearly beloved Chahna. All of you know her as a talented and engaging yoga instructor who has been writing for Desh-Videsh over the last few years. On behalf of the entire Desh-Videsh Media Group team, I want to warmly congratulate Chahna and her husband Nikhil, together with all those newlyweds whose weddings we are covering. I would also like to offer special congratulations to everyone else who got married recently but whose weddings we could not cover in this issue because of space limitations. We love you too!

Now let me turn to one of my favorite topics: passing our Hindu culture on to our young children and young adult children. Over the weekend, we attended the wedding of one of our friends, Dr. Sunil Kumar's son Neil. It was an utterly spectacular wedding, and one which included multiple notable events. I want to congratulate Neil and Veena and the entire Kumar and Kanan family.

There were a few things I noticed in this wedding celebration which were particularly noteworthy. While these were subtle reminders for us, more importantly it taught our young and young adult children Hindu culture and traditions in three ways.

First, the wedding ceremony was performed per Hindu Muhurat, at an auspicious time. Baaarat was at 7:30 AM, and the wedding ceremony was at 8:45 AM. (I am sure some people may think this is too early, especially when the previous night was Sangeet night.)

Second, at Sangeet night, rather than performing exclusively Bollywood songs, they danced to Telugu songs, keeping the native language alive.

Third (last but not least), there were three sections of food served: Andhra food, Telugu food, and Veena & Neil's favourite Indian dishes (again, keeping Indian culture alive).

I know, I know—I'm being too picky. But that's how I am: noticing when our Hindu culture and traditions are highlighted and when they are ignored.

Let me close my column by quoting one of the Hindu Scripture slokas in wishing all of you a happy and healthy new year:

सूर्य संवेदना पुष्पे:, दीप्ति कारुण्यगंधने|
लब्ध्वा शुभम् नववर्षे अस्मिन् कुर्यात्सर्वस्य मंगलम्

Surya Samvednapushpayeh Deeptih Karunyagandhane,

Labdhva Shubham Navvarshesmin Kuryatsarvasya mangalam.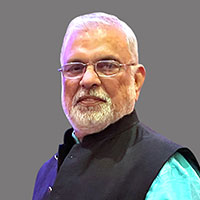 As the sun gives light, the sensation gives birth to compassion, and the flowers always spread their fragrance. May our new year be a pleasant one for us—every day, at every moment!
Until then, be safe! Be well!
Raj Shah
Managing Editor