A Bollywood Wedding: Rajkummar weds Patralekhaa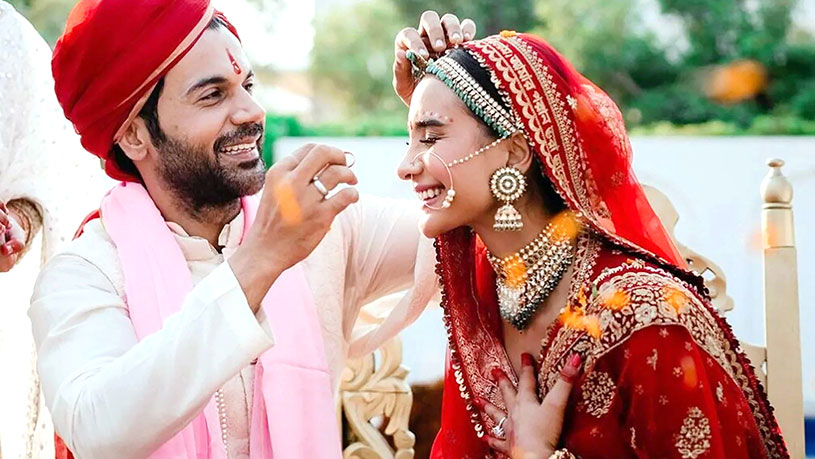 "I bestow my whole-hearted love to you." That was inscribed on the wedding dupatta of Patralekhaa, a powerhouse Bollywood actress and the bride of the eminent actor Rajkummar Rao. The romantic Bollywood duo tied the knot on November 15, 2021, at Chandigarh. Having dated for more than a decade (while giving relationship goals to all the couples out there), they finally decided to make it official.
The wedding was a private affair, with family and close friends attending the ceremony in the morning. This was followed by an evening reception. Despite both bride and groom being from Bollywood, the marriage occurred far from the tinsel town; being celebrated at Oberoi Sukhvilas Spa Resort in Chandigarh. Both the Bengali bride and the Punjabi groom looked stunning on their day, in customized outfits designed by none other than the famous designer Sabyasachi.
Honoring Bengali bridal tradition, Patralekhaa was an elegant vision of loveliness and beauty in her red embroidered sari, crowned with her dupatta (veil) inscribed with such a romantic Bengali verse. She also wore the customary red and white bangles traditionally worn by Bengali brides. With minimal make-up, and wearing a heavy neck piece, jhumkas, and maang-tika, she was an expressive beauty; and the signature smile on her face radiated her joyful bliss.
Rajkummar, the Punjabi groom, was charming in a white sherwani (with designer buttons), a red turban, and (piously) the teeka on his forehead. They exchanged garlands; and the groom put sindoor (vermilion) on the bride's forehead. The complete Hindu ritual was followed devoutly by the couple. Celebrities like Farah Khan and Saqib Saleem were present at the wedding.
The marriage ceremony was followed by a reception in the evening. Rajkummar Rao was dressed in a black suit, and Patralekhaa was dressed in a cream silk sari by Sabyasachi with heavy jewelry and a beautiful shawl. Manohar Lal Khattar, Chief Minister of Haryana, numbered among the invitees.
The duo also had an engagement ceremony at the same venue on Saturday, November 13 where the theme was all white for the man and his fiancée (along with their guests). Both of them shared pictures of their wedding on their social media handles and expressed joy, gratitude, respect, and deep love and commitment for each other.
Rajkummar began his career with the film Love Sex Aur Dhokha in 2010. The powerhouse of talent has been featured in films like Shahid, Kai Po Che, Queen, Newton, and Bareilly Ki Barfi. He has received a National Award and multiple Filmfare awards. Patralekhaa debuted with her husband Rajkummar Rao in CityLights in 2014 and has acted in films like Love Games and Nanu Ki Jaanu. Having long since grown out of the initial phase of their dating relationship (which had initially been marked by struggle), they have gone on to be together in everything—having been there for each other through thick and thin. In the bride's own words, they are soulmates, best of friends, partners in crime, and so much more. For Rajkummar's part, the greatest pleasure of his life is being called Patralekhaa's husband.
wedding dupatta
Bollywood actress
actor Rajkummar Rao
romantic Bollywood duo tied the knot
Chandigarh
evening reception
Oberoi Sukhvilas Spa Resort in Chandigarh
Bengali bride
Punjabi groom
customized outfits designed by famous designer Sabyasachi
Bengali bridal tradition
neck piece
jhumkas
maang-tika
white sherwani
Manohar Lal Khattar
Chief Minister of Haryana
Bollywood film Love Sex Aur Dhokha
Bollywood film Bareilly Ki Barfi
Bollywood film Shahid
Bollywood film Kai Po Che
Bollywood film Queen
Bollywood film Newton
Bollywood film Love Games
Bollywood film Nanu Ki Jaanu