Editorial
Dear Readers,
The month of January brings many new and exciting things. To start, it is the beginning of a new year, new hopes, new resolutions, and new goals. But the most exciting for me is when the Indian government recognizes individuals who have contributed for years to promote India, Indian culture, and Indian heritage. As an Indian living outside of India, the Pravasi Awards, which occur every two years, is one of the most important events for me. Closely follows the Padma awards, another highlight for me.
This year, I am even more excited since our very own Floridian, and my good friend, Dr. Kiran Patel received a Pravasi Award. Everyone knows Dr. Patel for his generous help toward all humanitarian causes. So to write about him is a tough job, and even tougher, to do so in one 500-600 word article. Moreover, he and his wife, Dr. Pallavi Patel are so modest they do not want to publicize the many good things they do. The team at Desh-Videsh Media Group was so fortunate to be able to visit his hometown, Mota Fofalia, near Baroda, Gujarat, in India. We were also able to do a photoshoot at the hospital and high school, which was funded by him and his wife and named after his father, Chhotubhai Patel. It is a real honor to know such a family. When I describe him as a Brand Ambassador of India, it is an understatement. Some of us who know him are aware that he is much more than that. Once again, I am fortunate that he has agreed to do a detailed interview once he returns from India.
I'm equally excited to read about Dr. Subhash Kak, who received a Padma Shri award this year. It is well deserved and a long overdue award. Another modest individual, it was my pleasure to to meet Dr. Kak and interview him a few years ago when he came to the South Florida Hindu Temple during Hindu Heritage month.
And last but definitely not least, this issue includes an article on Dr. David Frawley. In this article, I claim he is more hindu than Hindus – I am sure I am going to upset some of my Hindu friends. But this is the risk a journalist takes to report facts. And believe me it is no exaggeration. After reading this article, I am sure you will agree. It is also our pleasure to include two of his recent books in our Must Read Books column.
And speaking of Hindus, it is our pleasure to announce a new organization, Network of Hindu Professionals (NET HP). The group had their first meeting and have announced a second meeting hosted by our own Chana Tailor.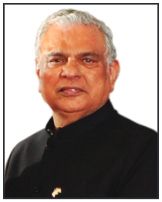 To end, let me change topics to our MyShadi Bridal Expos. As you have no doubt seen in the magazine and on social media, we have three shows planned for you: Atlanta on March 10; Raleigh on March 31; and Orlando on April 28. We're thrilled with all the engagement in the social media world and appreciate the good response for all these efforts. If you or any of your family members are getting married or you are in the mood to shop, be sure to follow Desh-Videsh on Facebook and Instagram and stay up-to-date with details. Be sure to also accept our invitation to attend the show on Facebook! We can't wait for another round of great shows. See you there!
Raj Shah
Managing Editor
Posted on: 02-1-2019 by: Deshvidesh