Editorial February 2022
Dear readers,

This month we come to you with articles which cover a wide variety of subjects. I am sure you must have guessed that my most favorite article among this month's articles is Celebrating the Birth Anniversary of Swami Vivekananda. Growing up in India, my father who was my teacher at home as well as in school, always talked about Swami Vivekananda and Gandhi ji. My father lived a very simple life following Gandhian principles and promoting Hindu Dharma. He used to tell me, "Dedicate your life to serving the community and you will be the happiest person in the world". He definitely dedicated his life to serving others and promoting Hindu Dharma by his lectures, articles and books. Learning from my father's teaching, I became an ardent follower of Swami Vivekananda as well as Gandhi ji. Last Month We celebrated the Birth Anniversary of Swami Vivekananda and also we remember Gandhiji's life long struggle on his death anniversary.

Last month there were two more celebrations, Makar Sankranti or Utarayan on January 14 and India's Republic day on January 26. Utarayan was one of my favorites when I was growing up in India. I would like to take this opportunity to share one of my pictures of a flying Kite on Uttarayan day.

Talking about India's Republic day celebration, we are pleased to present an article on 2022 Padma Awards. I am sure all of you know about these awards which are conferred by the President of India on India's Republic day. This year technology kings and literary queen were among others who were conferred with Padma Bhusan awards.

As we have done in the past this month I am thrilled to present one article which is especially interesting to younger audiences. The first one is " 4 books parents can use to fortify their children's education".  In this article, Dr. Conrad Hughes who wrote his Phd thesis on how education can reduce prejudice recommends parents four books which give physical strength, courage, and endurance to their children. I was very much pleased to see " The Upanishads" on top of the list.

In this issue, we are also pleased to feature a poem "A Walk in a forest" by Kriti Binani, 7th Grade student. It is very refreshing that our kids are taking interest in the literary field even in the Iphone era.

Our young writer Chahna Tailor Gupta in her article advises couples that there are several ways couples can make their valentine's day special besides giving chocolate. If I have the liberty to add my thoughts about valentine's day. In my opinion, February should not be only about valentines and sweethearts; instead it can also be a month for fostering relationships with family and friends, and loving others.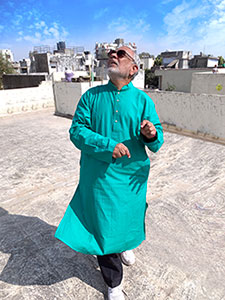 Our immigration expert, Seth Finberg in his article "Marriage-Based Green Cards" clears up some misunderstanding about fiancé visas and lists all other options available for married couples to get their green card.
Now last but not least, the article about religion conversion. Maria Wirth, who often contributes her articles to Desh-Videsh has written an article, "Why I am against Conversion". Some may find this article a bit controversial. On behalf of our editorial team I invite an article from our readers which contradicts Ms Wirth views.
Let me end my column by wishing all of you a happy and healthy valentines' day.
Take care. Be safe; be healthy!
Raj Shah
Managing Editor