Editorial January 2022
Dear readers,

On behalf of the entire Desh-Videsh Media Group team, I want to wish all of you a happy, healthy, and prosperous New Year.

Let me echo some things that Chahna wrote in her article.

We are at the start of another fresh new year. Typical New Year's resolutions usually center around improving physical health through diet and exercise; or improving financial health via financial and tax planning. But because of the pandemic, the last couple of years has been particularly tough on our peace of mind, with some even experiencing one of the lowest emotional periods in their lives. Most of us haven't experienced this type of situation in our lifetime, so it can definitely take a toll on our mental health.

Two years of chronic stress is a long time to suffer. Not being able to see the end of the tunnel can allow negativity to creep into our thoughts. Therefore, a good new year's resolution this year might include a plan to replace negative thoughts with positive ones.

Let's face it: Negative thoughts are either about the past or the future. We may feel guilty, remorseful, or sorry about things that have happened in the past; and we may worry about things that could happen in the future. Mindfully reflecting on lessons learned can be constructive, prudent, and encouraging if it leads to positive change. However, letting negative and anxious thoughts overwhelm us can be counterproductive, not to mention depressing, scary, and stressful.

If we've tended to always look at things negatively and are used to not only thinking of the worst thing that could happen but dwelling on it in an unproductive way (rather than preparing for it in a prudent way), we're more than likely to continue to think in the same way, unless we break the habit. And yes–we definitely can break the habit of negative thinking, just like we can break the habit of smoking or not eating junk food. By no means will it be easy, but it is absolutely possible.

In 2022, let's look forward to taking control of our thoughts and removing negative thinking and replacing it with positive and calming thoughts.

Speaking of positive things, let me talk about our cover story, Kashi Vishwanath Dham. Let me take this opportunity to quote Prime Minister Modi ji. He said, while inaugurating the Kashi Vishwanath temple corridor,

"Vishwanath Dham is not just a grand building. This is a symbol of the Sanatan culture of India. It is a symbol of our spiritual soul. This is a symbol of India's antiquity; traditions; India's energy and dynamism."

He went on to say,

"For me, God comes in the form of people. For me, every person is a part of God. I ask three resolutions from the people for the country – cleanliness, creation, and continuous efforts for [promoting a] self-reliant India"

"[A] long period of slavery broke our confidence in such a way that we lost faith in our own creation. Today, [speaking] from this thousands-year-old Kashi, I call upon every countryman [to] create with full confidence. Innovate! Do [things] in an innovative way."

What a positive message to Indians living worldwide!

Now let me talk about two memorable days that come in January. Indians can never forget  in their life, these two days: January 26 and January 30. January 30, the anniversary of Gandhi's death, is a black day in Indian history; we wish that it never happened. Conversely, January 26, India's Republic Day, brings us enormous joy and happiness. We are presenting two articles on these two memorable days. Please make sure you read them and pass the message on to your friends, family, and especially to the youth in your family.

In this issue, we are also presenting an article on financial planning, The Seven Most Dangerous Enemies of Wealth, by Bimal Shah. We also present an article on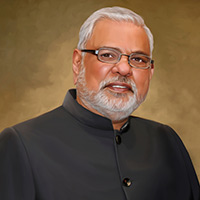 immigration advice by Seth Finberg. The International Entrepreneur Parole (IEP) Program by the US Immigration Department is not a new program. However, not too many Desh-Videsh readers know about it, so we thought it would be very beneficial to our readers.
Let me end my column by wishing all of you, once again, a happy and most importantly a healthy New Year.
Take care. Be safe; be healthy!
Raj Shah
Managing Editor
Desh-Videsh Media Group team
happy, healthy, and prosperous New Year
New Year's resolutions
improving physical health through diet and exercise
Two years of chronic stress is a long time to suffer
habit of smoking
not eating junk food
Kashi Vishwanath Dham
Prime Minister Modi ji
Kashi Vishwanath temple corridor
Vishwanath Dham is symbol of the Sanatan culture of India
symbol of our spiritual soul
self-reliant India
January 30, the anniversary of Gandhi's death
January 26, India's Republic Day
The Seven Most Dangerous Enemies of Wealth by Bimal Shah
immigration advice by Seth Finberg
Desh-Videsh readers