Editorial June 2022
Dear Reader
Into my will, I take thy heart
Thy mind shall dwell in my mind
In my words thou shall rejoice
With all thy heart,
May God join thee to me.
What a beautiful vow newlyweds are making to each other when they are just about to start a new journey together. This verse in the form of a vow, taken from an ancient Hindu scripture, Atharvaveda, is one of seven vows Hindu couples recite to one another while taking seven steps together, Saptapadi, as a part of their wedding ritual. Personally, I find these vows to be extraordinarily rich and spiritual, reflecting deep religious and social importance and insight into the various needs and phases that a married couple goes through. Even though these vows were created tens of thousands of years ago, they have an essence of modern values where couples stand equally and promise each other lifelong companionship. Each vow revolves around the necessary elements required to make the marriage successful and the bond between the partners stronger.
Let me stop talking about Hindu rituals right here and discuss the Desh-Videsh wedding resource special edition.
After two years of uncertainty, the world of weddings and all that is required has returned with a vengeance – and we have the perfect wedding resource guide to assist all the lovely couples and their families with the many decisions that need to be made for their special days.
More than 2.5 million couples are expected to tie the knot this year – the biggest number in recent history – with most of the celebrations kicking off this summer. If you're one of those lucky couples set to walk down the aisle, we've got you covered. It's the summer of love, and we're ready for it!
We have a wide variety of professional wedding vendors listed in this special wedding resource guide. I encourage you to support our advertisers. Their experience, creativity, and expertise are priceless! Do not forget to tell them you found them through Desh-Videsh wedding resource guide. We could not do what we do without them!
Once again it is very refreshing and exciting to present to you a few recent Indian weddings in this issue. We have chosen to showcase these weddings from the numerous submissions we received because of their uniqueness.
As I have said before in my column, destination weddings are the new big trend for Indian weddings. The concept of destination weddings is becoming popular because of various reasons, namely the convenience of having all of the ceremonies arranged for you and celebrated in one location. No hassle of finding parking places at various locations and no traffic jams!. At the same time, it's cost effective, practical, and fun.
We are covering two such weddings in this issue, one in Punta Cana, Dominican Republic, and another  in Phoenix, Arizona. I hope those of you who are planning your weddings discover some new ideas from these weddings.
Speaking of news ideas, we have included one article on Indian designers who are making their entry in Hollywood. All three designers, already popular in India, are becoming popular here in the USA as well. Couples planning their weddings will definitely get some new ideas from these websites.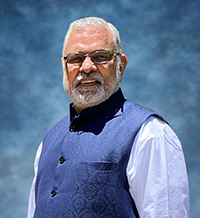 I hope you love what you find in the following pages, and once you have said your seven vows, shoot me your wedding details with the pictures! I would love to cover your wedding in the next issue of Desh-Videsh wedding resource guide.
Happy Planning and an even happier ever after!!
Managing Editor
Desh-Videsh Media Group
ancient Hindu scripture
Atharvaveda
seven vows Hindu couples
seven steps together
wedding ritual
Desh-Videsh wedding resource special edition
Phoenix
Arizona
Hollywood