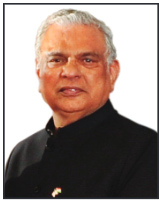 A software engineer by profession, Indian culture enthusiast, ardent promoter of Hinduism, and cancer survivor, Raj Shah is a very positive and forward-thinking person. Living in the United States since 1969, he considers the US his Karmabhoomi but does not forget his Mathrubhumi India even for a minute.
Promoting the rich culture and heritage of India and Hinduism has been his motto ever since he arrived in the US. Keeping those principles in mind, he co-founded an organization, the VIP (Volunteers of India's Progress) Club, in Clifton, New Jersey, in 1972. Since then, he has been instrumental in promoting several community organizations.
Raj has written several articles on a wide variety of subjects, like Hinduism, Indian culture, Hindu weddings, and Indian festivals. He has also written two books titled The Chronology of Hinduism: Documenting the History of the World's Oldest Religion and Understanding Hinduism: The Basic Facts about Hinduism and Frequently Asked Questions. He has also written several children's books like We Love Diwali , Holi Hai, The Immortal Characters of Mahabharat, The Immortal Characters of Ramayan, Coloring and Understanding Hindu Symbols, The Complete Mahabharata in 100 Tweets, The Complete Ramayan in 100 Tweets, Welcome to our Beautiful Mandir , The Essence of the Bhagavad Gita, 365 Life-Changing Inspirational & Spiritual Messages, The Vision of PM Modi
Since retiring from his computer business, Advanced Microcomputer Systems Inc., Raj works full-time as Managing Editor of Desh-Videsh Magazine, which he founded in 1993 with his wife Aruna Shah. He also serves as Chairman of the Board of Directors of the Hindu University of Americas South Florida campus and as the founding Chairman of the Board of Directors of the International Hindu University (IHU).
Raj agrees with an Arnold Palmer Golf Champion when he says, "If the mark of happiness is loving what you do and doing what you love, then I am the happiest man who ever lived."
Raj, the granddad of four lovely grandchildren, is a family man and strongly believes in the old Hindu concept of Vasudhaiva Kutumbakam: "The whole world is one family."
By Raj Shah Narendra Modi has been winning hearts with his diplomatic skills since he took office as the Prime Minister of India. His unique gift-giving has become an integral part of international relations between India and other countries. He presents world leaders with carefully chosen gifts that are either symbolic or represent Indian culture in some way. It is …