Editorial
Dear Readers,
It's election time in India as well as in the United States. India's elections began on April 19 and will end on May 19. In the US, more than 20 democrats have announced their candidacy for the presidency against President Trump. There are many similarities in both the elections.
In India, the economy is doing very well compared to other nations in the world under Prime Minister Modi's leadership. Similarly, the US economy is doing very well under President Trump's leadership compared to the several past years.
In India, the opposition parties are united in their messages of all things anti-Modi. In the US, seemingly many of the Democratic Party candidates do not have their own message except for anti-Trump sentiments.
Lastly, many mainstream media outlets in India as well as in the US are against the incumbent.
In terms of differences, the US does not have a family dynasty at the presidential level similar to that in India. Over the last 60 years, the nation has seen Nehru family members ruling as prime minister or president of the Congress Party. First Nehru, then his daughter Indira Gandhi, followed by her son Rajiv Gandhi – all three held the position of Prime Minister of India. Currently Rahul Gandhi, Rajiv's son is Congress Party leader and is set to become Prime Minister if the Congress Party wins. To a certain extent, Nehru and Indira Gandhi were tolerated as Prime Ministers considering they had some experience being leaders. The situation is now different. Rahul Gandhi does not have any experience as a leader, and he is not even an Indian citizen, a good policy maker or a good speaker. Yet over 40 million Congress Party members cannot find anyone else to be their leader outside of the Nehru family.
I hope Indian voters are not blinded by the charismatic personalities of Nehru's family members in an effort to reject Prime Minister Modi's leadership.
Now let me turn to another burning topic in the US – immigration. Recently, there have been several issues at the forefront where immigration is concerned, from illegal migrants coming from South America to proposed changes in the H1 application and family members getting green cards. As of yet, Congress has not passed any new legislation. To learn more about H1 visa alternatives, be sure to read the article written by Manju Kalidindi, a South Florida immigration attorney.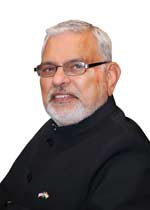 Now onto a topic I love to discuss – the achievements of one of our own community members. For those of you living in South Florida, you are well aware about Ranjana Warrier and her talent, from choreographing Indian Classical dances to  fusion dances for Florida Grand Opera's The Pearl Fishers. Rina Shah from The Arpan Group interviewed Ranjana to learn more about the accomplished artist for the latest "Get to Know" article.
Before I end, I would like to personally thank everyone who attended our MyShadi Bridal Expos in Atlanta, Raleigh, and Orlando. For Aruna and I, these shows are a great opportunity to catch up with our vendors and meet so many new people – brides in particular! Special thanks to all of our vendors for participating and to our Platinum Sponsors – Renaissance Atlanta Waverly Hotel, Raleigh Marriott Crabtree Valley, and Hilton Orlando.
Raj Shah
Managing Editor
Posted on: 04-4-2019 by: Deshvidesh