Editorial May 2023
Dear Readers,
The year 2023 is a watershed moment for Indian-Americans, with the thought that the next US President may be an Indian-American. There is already a long list of heads of state or governments in the world who are of Indian descent. 
The list includes Rishi Sunak, Prime Minister of Britain; Portugal PM António Costa; Mauritius PM Pravind Jugnauth; Mauritius President Prithvirajsing Roopun; Singapore President Halimah Yacob; Suriname President Chan Santokhi, and Guyana President Irfaan. Nikki Haley or Vivek Ramaswamy may join this list after the 2024 US presidential election.
It is very noteworthy that, where 70% of Indian-Americans identify as Democrats, 2024 presidential candidates Nikki Haley and Vivek Ramaswamy are members of the Republican Party. Similarly, Indian-descent Bobby Jindal, who served as the 55th governor of Louisiana and ran in the presidential primaries in 2016, was also a Republican Party member. 
While a majority of Indian-Americans continue to support the Democratic ticket, it seems that the Republican Party is having some success growing support among Indian-American voters.
No, I am not forgetting that our current Vice President, Kamala Harris, a Democrat, wants to identify herself as Indian-American, but I am also not forgetting that she did not want to identify herself as Indian-American prior to the 2020 presidential primaries.
Leaving party politics aside, as I wrote in my article "The Next US President May Be an Indian-American," Vivek Ramaswamy's or Nikki Haley's chances of winning are very low, especially when you see the election from a completely different angle: discrimination. Remember that the nation that preaches equality for men, women, races, and religions throughout the world has never chosen a woman or a non-Christian to lead it as president.
The second part of our cover story talks about Nikki Haley's presidential candidacy and her views on key issues. Elected twice as governor of South Carolina and serving for two years as UN Ambassador, she has a long list of accomplishments. She also has very clear views on important topics such as foreign policy, taxes, immigration, and abortion. 
More importantly, in my view, she has never forgotten her Indian ancestry when she says in her campaign videos, "I was the proud daughter of Indian immigrants. Not black, not white, but different."
I hope she is the first choice of Republican voters in the 2024 primaries, and if not first, definitely a strong second, so she can be picked as the vice presidential running mate for the party's winning candidate.
Now let me turn to my favorite topic: India and Prime Minister Narendra Modi. In this issue, we are presenting the results of the poetry contest we sponsored at a high school while we were in India last January. The subject was Prime Minister Modi. I was very pleased to see enthusiasm, originality, and creativity in these young boys and girls. 
More than 100 students submitted their poetry, and most of them focused on different virtues of Prime Minister Modi. Looking at the enthusiasm of these high school students, I can definitely see how the Prime Minister's approval rating is 76%, as reported by the US company Morning Consult. In this issue, we have included the top 10 poetry entries picked by local judges.
At this point, let me welcome our new contributor, Tampa-based Krishna Rao, a former financial planner. In the article, "All You Need to Know About the SECURE 2.0 Act," Mr. Rao explains in easy-to-understand language all of the changes made by the government in the Setting Every Community Up for Retirement Enhancement (SECURE) 2.0 Act. Since he is retired, he no longer works with clients but has graciously agreed to contribute articles and answer any questions on financial planning. Please email your question to editor@deshvidesh.com.
Our Ayurveda and Yoga expert Chahna Tailor Gupta always writes very interesting articles, but in this issue she focuses on an idea that is very near and dear to my heart: "Preserving Our Roots and Ancient Knowledge." Please read this article and send us your comments at editor@deshvidesh.com.
Dr. Namitha Raju, our parenting coach who wrote the article "I Want to Break Free!," once again comes up with very valuable advice for parents. Every parent faces some challenging situations, such as: How to react when your child makes a harsh statement about you, your spouse, or your behavior. Dr. Raju explains how to react in situations like these.
Everybody talks about AI and ChatGPT. So why not our immigration expert Seth Finberg? In the article "How AI Can Affect the Practice of Law," he talks about using AI. When I first read the title of the article I thought he was killing his own practice by recommending using AI. But when I read the article in full I understood what he was trying to say. 
He writes, "It is important for law firms to carefully consider the ethical implications of using AI and ensure that it is used appropriately and responsibly." Very true. As a matter of fact, not only is it true in law, it also applies in every field, including my field of work, writing articles for publishing fields. As I have mentioned in previous issues of Desh Videsh, I have also used AI and ChatGPT out of curiosity.
Now let me share some important news about our Myshadi Bridal Expo. As you may have seen on our social media platforms, our Fort Lauderdale Bridal Expo was a huge success thanks to all of our supporting vendors and local brides, grooms, and their families.
You may also have seen our social media posting and e-blast about our two upcoming bridal expos, one in Orlando on Sunday, July 23, 2023, at the Caribe Royale Orlando, and on Sunday, August 27, 2023, at the Raleigh Marriott Crabtree Valley in Raleigh, NC. We hope you will join us.
Until then, be safe and be happy!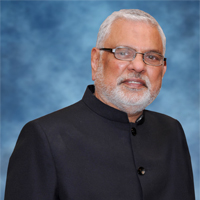 Managing Editor
Desh-Videsh Media Group