Editorial
Dear Readers,
Shubham karoti kalyaanam
Aarogyam dhanasampadah
Shatrubuddhivinaashaaya
Deepajyotir namostute
I prostrate to the light which brings brilliance, auspiciousness, health and wealth for the destruction of evil thoughts
This message is from the Hindu Scriptures and is very timely for upcoming Hindu Festivals, Navratri and Diwali.
It is that time of the year – the time to celebrate, enjoy family, and thank God almighty for all the blessings He and She have given. Here I specifically mentioned She because during Navratri, we worship Goddess Durga. Not too many people know why we celebrate Navratri, or nine nights. Hindu scripture explains that Goddess Durga and one of the fiercest demons, Mahishasura, battled for 9 days, and on the 10th day, Durga killed Mahishasura. Therefore the 10th day is called Vijayadashami, day of the victory.
In this special Diwali issue, we present several articles about Diwali, each reflecting on different topics.
In the article, "Diwali: The Victory of Good Over Evil," we learn about the concept of good people achieving victory over those who are evil. The above mentioned shloka "Shubham karoti kalyaanam" goes even one step further and discusses the destruction of evil thoughts. Everyone of us should keep that goal in life.
Another interesting and fascinating article is about Divali Nagar in Trinidad and Tobago. In the article, Diwali is spelled Divali and it is not typo but rather the way it is spelled in the Indo Caribbean community. As I have mentioned before, the Hindu Indo Caribbean community has maintained Hindu culture a lot better than Hindus coming from India, either here in the US or in Caribbean island countries.
Some of you who know me, know that I consider Swami Vivekananda as my spiritual hero along with Gandhi ji. Back in 1970, when Aruna and I were just starting our life in Chicago, we used to go to the Swami Vivekananda Ashram every Sunday. It is our honor to present two historic speeches given by Swami ji 125 years ago in Chicago. Swami ji delivered a heroic speech in front of thousands of non-Hindu delegates and won their hearts.  I am hoping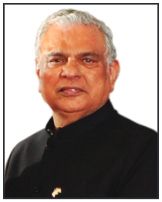 our Hindu youths living in America takes inspiration from these speeches.
Our young writers, Nisha and Nirali are back in this issue with Diwali related articles, one on maintaining a healthy lifestyle and another on maintaining healthy finances.
Over the last couple of months, many of you must have received several emails and phone calls regarding our Bridal Expos. We just finished another very successful shows in Orlando at the Hilton Orlando and in South Florida at the Bonaventure Resort & Spa. In this issue, check out those beautiful pictures of our Fashion Show models and participating vendors. I would like to recognize one special model, Rosanna Barsati, who has participated for ten years with us as a model at MyShadi Bridal Expo!
Happy Navratri, Happy Diwali and Happy New Year!
Raj Shah
Managing Editor