Editorial October 2019
Dear Readers,
October month is a very special month in my life. I am sure the first thing that comes to your mind is because it is a month where most Hindus celebrate Navratri and Diwali. Yes that is one of the reasons. But as you already know that as per Hindu calendar Diwali and Navratri do not always fall in October month because we follow Lunar calendar. But the main reason it is very special for me is because of October 2, my mentor Gandhi ji's birthday. And especially this year is very special because we will be celebrating 150th Birth anniversary of Gandhi ji.
Gandhi ji who was also called Mahatma, Father of Nation (Bapu) was born as an ordinary man yet his extraordinary deeds and non-violence philosophy changed the world we see today. Gandhiji's fight for freedom and peace gave voice to many landmark movements in India and all over the world. Along with the entire team of Desh-Videsh Media Group and Desh-Videsh readers, I pay a heart-warming tribute to 'Bapu' on his Birth Anniversary.
As you know we have been talking in Desh-Videsh that in south Florida, we will be celebrating 150th Birth anniversary of Gandhi ji at bigger level than usual.  Please check out Community news section of all the details.
Now let me talk about my second mentor, India's Prime minister Narendra Modi ji. We have two articles about Modi ji in this issue. First, Modi 2.0 and the second of abolishing 370 from Kashmir. Regardless of whether you agree about abolishing 370 from Kashmir, I am sure you will agree that it was a gutsy move. In the last 50+ years, several Indian leaders have talked about it but nobody was able to to do anything about it.
Being Gujarati, I may be a bit biased but I am sure most of you agree that when we talk about Gandhiji, Modi ji, Sardar Vallabhabhai, Ambanis and Vikram Sarabhai, It will not be out of place if I say " Gujju Rocks".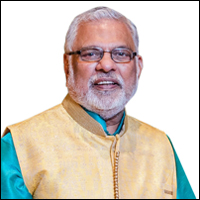 Now since we are talking about rocking, Bollywood superstar duo Amitabha Bacchan and Lata Mangeshkar come to our mind. In this issue we talk about Amitabh Bachchan who has been  selected for the 66th Dadasaheb Phalke. The Dadasaheb Phalke Award is India's highest award in cinema. In my opinion, Amitabha Bacchan who has been entertaining us since 1969 should have gotten this Award long time ago.
Please also read our article on Lata Mangeshkar's 90th birthday and PM Modi ji special message to her.
Now last but not least, I would like to wish every one of you and your family members, Happy Diwali. This year on October 27, we will celebrate the victory of light over darkness, good over evil and knowledge over ignorance. Diwali which means row of lighted Diyas and Diyas represent knowledge, purity, morality and consciousness,
Let me end my column with sloka from Brihadaranyaka Upanishad I.iii.28,
Asato ma sadgamaya
Tamaso ma jyotirgamaya
Mrityorma amritam gamaya
Om Shanti Shanti Shanti.
Lead me from the asat(untruth) to the sat( Truth)
Lead me from darkness to light
Lead me from death to immortality
Om Peace Peace Peace.
Raj Shah
Managing Editor
Hindus celebrate Navratri
Hindus celebrate Diwali
Lunar calendar
Gandhi ji's birthday
150th Birth anniversary of Gandhi ji
Desh-Videsh Media Group
Desh-Videsh readers
Bapu
Birth Anniversary
south Florida
India's Prime minister Narendra Modi ji
Modi 2.0
abolishing 370 from Kashmir
Gandhiji
Modi ji
Sardar Vallabhabhai
Ambanis
Vikram Sarabhai
Gujju Rocks
Amitabha Bacchan
Lata Mangeshkar
66th Dadasaheb Phalke Award
The Dadasaheb Phalke Award is India's highest award in cinema
Lata Mangeshkar's 90th birthday
Happy Diwali