Gandhi and Global Nonviolence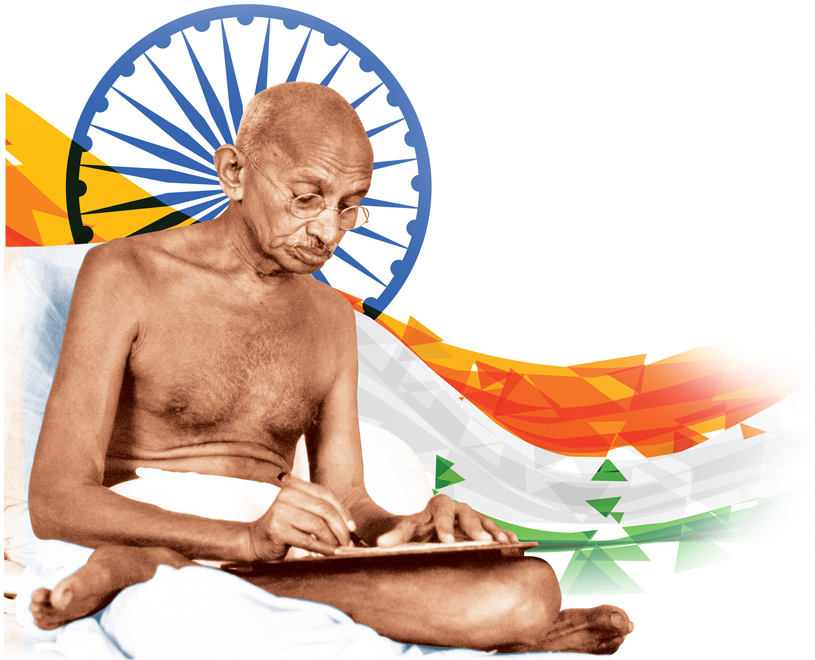 Compiled by Doug McGetchin, Associate Professor of History, Florida Atlantic University
In the 2019 summer session at Florida Atlantic University, the class "Gandhi and Global Nonviolence" explored the life and legacy of Mahatma Gandhi under the direction of history professor Doug McGetchin. Gandhi's life, especially his leadership in the Indian independence movement, was the main focus of the course, but his role in amplifying and championing the nonviolent techniques of Satyagraha (holding onto truth, or nonviolent struggle) that helped free South Asia from British colonial control, and its growing legacy in the seven decades that followed was also explored. Gandhi grew up in western India, received legal training in England, developed his technique in South Africa, and collected disciples and admirers from around the world during and after his lifetime. Gandhi's impact around the world in social and political struggles has been profound, inspiring other activists including Dr. Martin Luther King, Nelson Mandela, and Aung San Suu Kyi. The method of nonviolent resistance has changed the world from South Africa to Serbia, Egypt, Montgomery, Selma, Manila, Leipzig, and Calcutta.
Papers by students, a requirement as part of the course, examined Gandhi's role in the Indian Independence movement as well as his wider legacy as an inspiration for nonviolent struggle by Cesar Chavez, Nelson Mandela, and Martin Luther King.
The following includes abstracts of a few student papers.
"The Spiritual and Political Parallels Between Gandhi and Dr. King"
Cierra Hall
When it comes to oppressed minorities, there are typically two tactics frequently used: violence or nonviolence. Violent movements lead to additional calamity, where many lives may be lost. However, the utilization of nonviolence tactics through peaceful marches, boycotting, fasting, and labor unions, can free oppressed minority groups while bringing the oppressed and the oppressors together in such as a way so that future relations and even coexistence is possible. Two of the greatest examples of nonviolent movements was in India's, led by Mohandas K. Gandhi, and the United States, Led by Martin Luther King Jr. The Indian movement was to gain autonomy from the British and lessen the power of the caste system while the Civil Rights Movement in the United States sought to gain equal rights for all members of society no matter the race. Although Gandhi and Dr. King were in different parts of the world at different times, to what degree were their challenges and nonviolent techniques parallel? King, a young adult when Gandhi was assassinated, was heavily influenced by Gandhi's nonviolent resistance movements and eventually adopted and used Gandhian technique which successfully led to racial desegregation in the United States.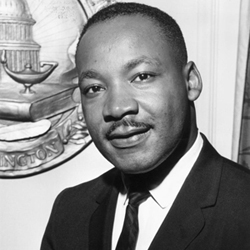 "The Making of a Mahatma"
Antonia Isaac
Born in 1869 as one of five children, Mohandas Karamchand Gandhi would surpass the leadership of his for bears to become one of India's most prominent Icons through his lifetime experiments with the principles of Satyagraha. But, was he worthy of Sainthood? Or was he simply a common man making the right choices? The Nobel Peace Prize Committee nominated Gandhi for the Peace Prize five times. Gandhi's political antagonist, Muhammad Ali Jinnah, on hearing of Gandhi's death sent a letter stating, "One of the Greatest Men." In 1921, the pastor of NY City's largest liberal congregation, considered Gandhi "The Greatest Man in the World Today. Upon his death, the London Times referred to Gandhi as, "The most influential figure India has produced for generations."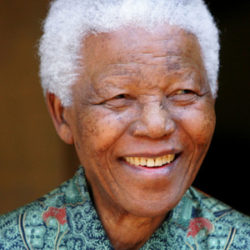 "Mandela's Use of Civil Disobedience in South Africa"
Paul Nolasco
Mohandas Karamchand Gandhi was a sagacious individual who gave warning of the various atrocities committed by those in power, before and during his lifetime. He was most notable for his use of nonviolent activism through various methods of protest against his oppressors. According to Louis Fischer, American journalist who helped edit a collection of Gandhi's writings, "Gandhi had a genius for making abstruse ideas practical, and one of the best examples comes when he explains the basis of satyagraha [in other words truth force]." He is not wrong, Gandhi's endless variations of nonviolent resistance persisted well into both the 20th and 21st Centuries. Political activist Nelson Mandela utilized Gandhian ideas in his quest to change laws and uplift his fellow countrymen in a nonviolent fashion so as not to senselessly lose lives to fruitless violence. To what extent did the young Mandela utilize nonviolent methods similar to Gandhi? Some could argue that he hardly embraced pacifistic ideologies since he was convinced that the downfall of the Apartheid regime would not occur without some form of armed resistance. Although it occurred in the final half of the 20th Century, people's movements sparked by injustices of an oppressor, in this case the Apartheid government, headed by Mandela is comparatively similar to Gandhi's in how he employed varying forms of nonviolent resistance such as community education, marches, boycotts, strikes, and a multitude of other civil disobedient actions.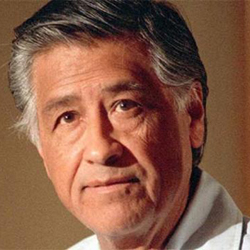 "Gandhi and His Method: The Formative Influences"
Yechezkel Seinfeld
Mohandas Gandhi's political achievements are readily apparent. His efforts in South Africa went a long way towards alleviating the hardships of his fellow Indians there, and in India his efforts were crucial to its ultimate independence from British rule. The political method he created, which he came to call Satyagraha, was hugely successful, and was the main factor in his political successes, both in large scale, and on an interpersonal basis. Yet, the most commonly revered part of Gandhi's exemplary life remains the personal traits and characteristics of the man himself. Millions today still call him the "Mahatma" (Great Soul) denoting a level of spiritual elevation which he is believed by many to have achieved through his ceaseless efforts at personal transformation and self-restraint. Perhaps one might consider that this personal reverence for Gandhi is primarily of religious value, and that the study of his exemplary method is worthwhile only to the scholarly. However in truth, the two qualities are inseparable, as both are merely facets of Gandhi's personality: his self-improvement and "saintliness" was a necessary factor in the success of his political method, and after all, he always saw his political method as a practical facet of Ahimsa to which he had pledged himself, and therefore to him it was only a reflection of his personal conviction.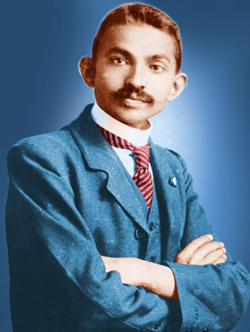 His achievements lead one to wonder from where did he obtain such qualities? The answer, it might be assumed, lies in his childhood influences, the formative experiences which are often fundamental to one's persona in later life. So, the question falls to which influence was most essential to the formation of the man as a whole, in whom developed both "saintliness" and the political method of Satyagraha. While it is easy to imagine that this question can be answered simply at its root source – by examining Gandhi's early influences, those which directly contributed to these qualities – the reality is very complicated. Between his mother's religious zeal and positive teachings, his wife's behavior towards him from which he learned his art, and between his own experiments with truth whose ultimate result was to solidify his fidelity to truth and Ahimsa, and to cling to the teachings of the Bhagavad Gita, one might theorize that the conclusion could be reached by discerning which of these was antecedent – that is to say, was the primary quality which enabled all the others, which enabled him to change throughout his life, and to constantly seek improvement. However, to give priority to the importance of one feature over the others is uncertain, and who is to say that in the absence of one, he would still have become "the Mahatma?" Rather it is best to see all of these influences as one, that his mother's influence, his relationship with his wife and his own experiments with truth all led him towards one thing which alone formed the basis of the entirety of Gandhi's efforts at personal change, and therefore formed the basis for his political success. The main effect these influences had on Gandhi was to enable his personal philosophy of adherence to truth and to incline him towards the Bhagavad Gita, which he considered the ultimate source of truth, from which he learned to refine his way of life, and which formed the greatest direct influence on both his private deeds and his public ones.
Please visit www.deshvidesh.com/GandhiandGlobalNonviolence to read all the students' papers in entirety.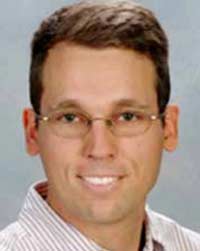 About the Author
Doug Mc Getchin, Ph.D., Associate Professor, Department of History specializes in the history of connections between modern Europe and South Asia. He is the author of Indology, Indomania, Orientalism: Ancient India's Rebirth in Modern Germany (2009) and several edited volumes. His history courses include world, Germany, India, Gandhi, WW2, and Peace Studies. He is the Associate Director of the FAU Peace, Justice, and Human Rights (PJHR) Initiative for the Jupiter campus and holds the Osher Lifelong Learning Institute Professorship in Arts and Humanities, 2018-19.
Florida Atlantic University
Mahatma Gandhi
Doug McGetchin
Indian independence
Satyagraha
South Asia
South Africa
social and political
Dr. Martin Luther King
Nelson Mandela
Aung San Suu Kyi
Martin Luther King
Cesar Chavez
Cierra Hall
The Spiritual and Political Parallels Between Gandhi and Dr. King
United States
Mohandas K. Gandhi
The Making of a Mahatma
Antonia Isaac
The Nobel Peace Prize
London Times
One of the Greatest Men
Mandela's Use of Civil Disobedience in South Africa
Paul Nolasco
American journalist
20th and 21st Centuries
Gandhi and His Method: The Formative Influences
Yechezkel Seinfeld
Great Soul
religious
self-restraint
Bhagavad Gita