Editorial October 2020
Dear Readers,

Coronavirus is clearly here to stay. As we close this issue, we have gotten the news that President Trump and the First Lady tested positive for COVID-19. I wish them both a speedy recovery. Many of us are eager to move on with and live life as we used to, but we have gotten some reminders lately that we should continue social distancing and wearing masks to protect ourselves and others.

This issue we are honored to continue to highlight the many accomplishments of our community. A strong work ethic and commitment to lifelong learning has become a hallmark of South Asians living around the world. Indian Americans continue to thrive in many different fields, and this issue features a profile of Sundar Pichai, CEO of Google and its holding company Alphabet Inc. Read the article to learn more about Pichai's journey to becoming an influential force in the tech world.

The 2020 Forbes 400 list of the top 400 annual earners includes seven Indian Americans, while the TIME magazine list of 100 Most Influential People of 2020 includes five prominent names. From Indian Prime Minister Narendra Modi and Wayfair's Niraj Shah to Workday's Aneel Bhursi and Professor Ravindra Gupta, both lists highlight the incredible contributions Indians and Indian Americans have made to developments in medicine, technology, global development and more. We can't wait to watch these lists over the years to come to see even more of our community members being increasingly valued for important contributions. Don't miss both articles to learn more about these incredible individuals.

George Soros is a force in a different way. Whether you agree with his many controversial actions or not, he is a character that needs to be further analyzed. This issue includes an article "George Soros: Is He a Threat for India?," which delves into the many ways Soros exerts his influence in India through his Open Society Foundation and so covert acts. Things are not always what they seem, and the role Soros plays in India's development is one of which we should be skeptical.

We all know how important nutrition is even if we don't want to follow any kind of healthy diets! It is always tempting to eat foods that we love sometimes especially because they are not good for us in any way except for the taste. This month, the article "Good nutrition contributes to keeping COVID-19 away" discusses the benefits of adding a variety of fruits, vegetables, and nutritious foods to your diet so that your immune system functions the way it should when attacked by disease or illness. Contributor Chahna Tailor also shares her Ayurvedic expertise on why room temperature water is best for drinking. Read her article "Ice is not that nice!" to be persuaded to change your water drinking habits.

Aruna and I along with the Desh Videsh Media Group team congratulate the Tampa, Miami, and South Florida chapters of the Akshaya Patra Foundation for a successful virtual gala! Held on Saturday, September 22, the Families for Change virtual gala raised a total of $500,000 exceeding their goal! We commend their efforts for the worthy cause of providing school children meals in India.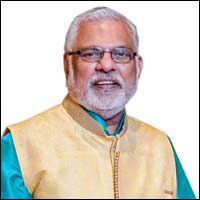 You all know this is my favorite time of year – Navratri is around the corner to be followed by Diwali. While it may not look like a festival season we are used to, let's keep the spirit of the holidays in mind. Social distancing cannot stop us from honoring the Devis. And you know, garba can be done anywhere, even from the comfort of your own home! We look forward to a time when we can all get together and celebrate our culture and traditions together, but until that time, we wish you a festive holiday season!
Happy Reading!
Raj Shah
Managing Editor
Coronavirus
President Trump and the First Lady
positive for COVID-19
South Asians around the world
Indian Americans
Sundar Pichai
CEO of Google
top 400 annual earners
100 Most Influential People of 2020
Indian Prime Minister Narendra Modi
Professor Ravindra Gupta
Open Society Foundation
Desh Videsh Media Group