Editorial
 Dear Readers,
It is my pleasure to present our third Wedding Resources special edition of the year. Before I tell you more about this issue, let me first thank several readers and especially brides to be for making suggestions to include more wedding related articles, trends and tips. As they say, "Your wish is our command." So, this issue includes several articles and tips. 
First and foremost, the article "Guidelines to Choose the Perfect Venue" summarizes details from several venues in the region who responded to our survey questions. Aruna and I would like to thank all our banquet hall customers for responding and providing their input on how to select the perfect venue.
In the last few wedding issues,  you may have noticed a new section called Vendor Focus. In this issue, we feature one of the top wedding decor companies, Occasions by Shangri-la. Not only are the owners of Occasions by Shangri-la, Smita Patel and Remmal Karamsdkar, talented and visionary, they have also been one of the biggest supporters of Desh-Videsh and My Shadi Bridal Expo.
I am hoping that you will find the articles "Most Essential Rituals in Hindu Weddings," "Fusion Mini Desserts to Add to Your Wedding Menu," "Eco-Friendly Wedding Favors for Your Guests," "Best Bollywood Songs for Groom's Entrance," and "Must Have Photo Moments" very informative and useful for your wedding planning.
Speaking of informative, don't forget to read my article on "Two Most Essential Rituals in Hindu Weddings." It is very important for young brides and grooms to understand that each ritual in Hindu weddings has a deeper, spiritual and practical message.
In our "Must Have Photo Moments" article, please take a look at the photographs from the very talented photographer Jerry Canatave of Infinite loop Photography (www.infiniteloopphoto.com ). He is the same talented photographer who took beautiful pictures of actress Shobha Narayan for our article "Indian American Actress Shoba Narayan Leads the Way to Broadway" and equally gorgeous pictures of Siddhi Desai in the "Fashion for a Soulful Wedding" article.
While I am talking about beautiful and gorgeous pictures let me mention three real wedding stories covered in this issue: Pooja & Mahul; Vaishali & Shivraj; and Gopita & Ruby. Read more about their planning process and their tips on how to relax and enjoy your wedding.
In this issue, we also take a look back at all of our 2019 MyShadi Bridal Expos. Once again, Aruna and I would like to thank all our sponsors, vendors, fashion show models, and most importantly, everyone who attended these shows. As you know, this year we added two new locations in 2019, Charlotte and Raleigh. Very soon we will be announcing our 2020 shows dates and venues. In 2020, we plan to add two more new locations, Detroit and Cleveland.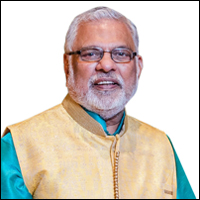 Before I sign off, let me remind you about our last show for the year in Orlando on September 15. We host two shows a year in Orlando, which is our flagship location. Among the most popular of our shows, the Orlando MyShadi Bridal Expo hosts over 150 booths. So you don't want to miss the 2019 Fall Orlando Expo, the last show of 2019! Visit www.myshadibridalexpo.com for more information.
Raj Shah
Managing Editor
Wedding Resources
several articles and tips
Choose the Perfect Venue
Must Have Photo Moments
Most Essential Rituals in Hindu Weddings
Infinite loop Photography
Shobha Narayan
Way to Broadway
Fashion for a Soulful Wedding
MyShadi Bridal Expos
Detroit and Cleveland
plan your entire wedding in one afternoon