Editorial September 2021
By now, I am sure you must be getting tired of me telling you how excited I am about this month's articles. But I do get excited about a lot of things which are related to India, Indian culture, Gandhi ji, Indian weddings, Hinduism, Education, Indian American kids, and much more. The list goes on and on…. And that is why I love being managing editor of
Desh-Videsh
. I am sure some of you must have noticed when I quote golf champion Arnold Palmer in my writings or in my bio. He said, "If the mark of happiness is loving what you do, and doing what you love, then I am the happiest man who ever lived." And getting paid for that is the icing on the cake! Frequently my friends ask me when I am going to retire. My answer to them is that I am already retired. When I used to manage my software/hardware company, I was working. But managing
Desh-Videsh
is my hobby; my passion – and that is what people do when they retire.
Enough about me. Let us come to the current topic. The September issue of Desh-Videsh is one of four special wedding resource issues we publish every year. The other months that we publish special wedding resource editions are March, June, and December.
In this issue, we have a variety of wedding stories ranging from COVID-19 weddings to post COVID-19 weddings. Our brides and their families have come up with very interesting and creative ways to celebrate their "BIG DAY" in spite of the COVID pandemic. When I am reading and editing these wedding stories, the most interesting thing I find is the way guys propose marriage to their soulmates!
Alec proposed to Aditi amidst the natural backdrop of the mountains of Vail atop a hill while watching the sunset together. Arjun proposed to Mamta at Central Park, NYC. Parag proposed to Ruhi on Brooklyn Bridge in Manhattan, NYC. Saeid proposed to Sangeetha (with her favourite emerald ring) on Makalawena Beach in Hawaii. Shivam proposed to Vijal at a scenic overlook of Ka'a'awa Valley in Oahu, Hawaii. I hope these romantic proposals will give some ideas to guys who are ready to propose to their soulmates. I would also love to see stories of some forward-thinking girls' proposals to their shy guys.
Speaking of romantic proposals, let me talk about the short article "The Love Poems from Thirukkural" that I have included in this issue. Yes, this is the same Thirukkural from which I usually quote management lessons and life lessons in my "Word to Live By" column in the past. The Tirukkuṟaḷ is divided into three books with aphoristic teachings on virtue, wealth, and love.
Tirukkural is considered one of the most widely translated non-religious works in the world. After reading a few chapters of Thirukkural in English, Gandhi ji said: "I wanted to learn Tamil, only to enable me to study Valluvar's Thirukkural through his mother tongue itself…. There is no one who has given such a treasure of wisdom like him."
Mentioned in the article "The Love Poems from Thirukkural" is the work of Kannan, a self-professed Tamil poet who has translated several Kurals in poetic language. I am so inspired by these poems that Desh-Videsh Publishing will soon publish them in book form!
Let me close my column by reminding all of you that because of the Delta variant of COVID-19, we have postponed all our 2021 bridal expo shows. Soon, we will announce the dates of our 2022 shows.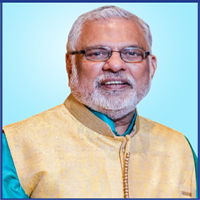 Until then, be safe and be well!
Raj Shah
Managing Editor
United States
Covid-19