Editorial
Dear Readers,
In July 1989, Reader's Digest published an article "Surprising Key to the Happiest Couples." Written by two psychologists, they concluded that romance and love are important in marriage, but it's friendship that puts love to the ultimate test.
The same fact was stated more than 5000 years ago in our Hindu scripture, Mahabharat. Yudhishthira was asked one question, "kimsvin mitram grihesatah?" (who is the friend of a householder?). He answered, "bhaaryaa mitram grihesatah," meaning the friend of a householder is his spouse. Wow, what a pious sentiment to start a new life with your soulmate.
Lately, I have been doing a lot of research on Hindu weddings and rituals for my upcoming book, "Indian Weddings – Ideas and Inspiration" and one interesting fact I found is that our Hindu Scripture is full of practical advice and guidance. In this month's Words to Live By column, I have listed several more sacred thoughts from our Hindu scriptures.
In this wedding issue, we include articles with little different twist on love and marriage. Be sure to read Love Poems by Rabindranath Tagore, the Must Read Books related to weddings, "We Do:" Celebrating Fitness Together By Nisha Jani, and last but not least, Fashion for a Soulful Wedding by Siddhi Desai.
In the article "We Do:" Celebrating Fitness Together, Nisha outlines several ways to incorporate impressionable wellness tactics during the hectic, but lively pre-wedding events.
In Fashion for a Soulful Wedding, not only did Siddhi write the article, but she also designed the looks that she and her kids modeled for the article. Desh-Videsh put put together a team from South Florida to capture the looks – photographer Jerry Cantave at Infinite Loop Photography as well as hair stylist Bonnie and makeup artist Summer from Zaina Hair Salon.
Thanks to our readers and all our wedding vendors, we get many submissions for our real wedding section. Sometimes, it is difficult to select a few for our Real Weddings section. Our team of editors thoroughly read every submitted wedding story and pick a few unique weddings.
This month, we present four such unique weddings. Bhavika and Rushil's wedding at The Barn at Rembert Farms in Gainesville, Jana and Vasant's wedding where two love birds one from England and one from Atlanta meet, Jinal and Pujan's wedding in which Pujan's romantic proposal took place on a boat in Las Vegas, and Susan and Nirlep's destination wedding at a beautiful resort, The Grand at Moon Palace in Cancun, Mexico.
No wedding issue is complete without one or two Bollywood weddings. The difference this month is that the wedding and engagement ceremony we cover are those of two very popular actresses, Sonam Kapoor and Priyanka Chopra.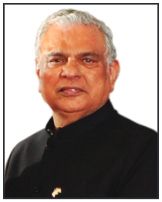 As always, your feedback about the articles in this and every issue is welcomed by myself and my team. Send us an with your thoughts to editor@deshvidesh.com.
Don't miss joining us for our last Bridal Expo of the year! We'll be hosting the Orlando MyShadi Bridal Expo at the Hilton Orlando on Sunday, September 16, from 12 noon – 5 pm. Admission and parking are free, so stop by to meet with event planning vendors, get a start on your Navratri and Diwali shopping, and watch the designer fashion show! One afternoon at the MyShadi Bridal Expo will save you time in the long run – and means more time for fun!
Raj Shah
Managing Editor