Jana Weds Vasant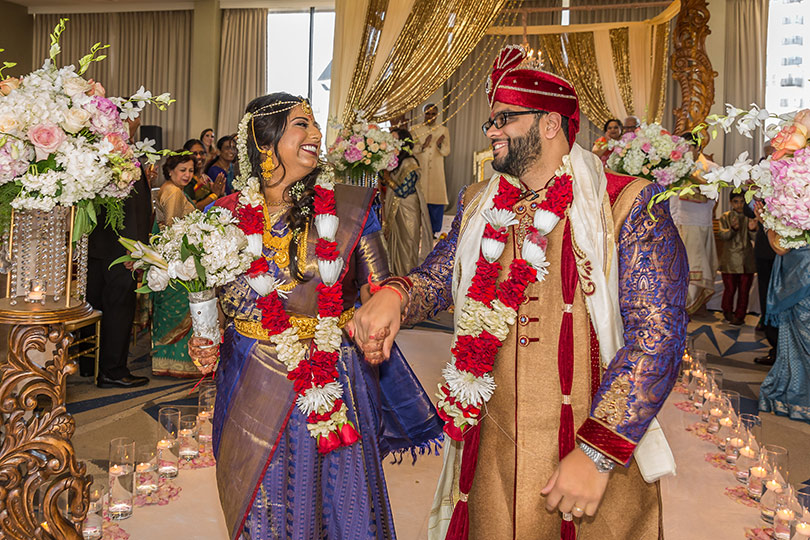 As the saying goes, true love never dies, rather only grows stronger with time. Vasant Patel, IT consultant, and Jana Anandarangam, an attorney, first met in January 2014. They pair dated for four years, and it was over time that they realized theirs was a forever love.
Vasant's spectacular proposal was a life-changing moment for Jana, one she will no doubt cherish for years. Vasant created a treasure hunt at the W Downtown Atlanta where he left love letters and gifts in various spots. The final and most incredible spot was the hotel's helipad where Vasant proposed. The couple celebrated in the lobby bar where family and friends were eagerly awaiting the happy couple.
Although Vasant and Jana are from London and New Jersey respectively, Atlanta had become home through their careers. The couple decided on the W Midtown Atlanta Hotel after being enchanted by the space and décor. Over 250 guests joined Vasant and Jana on March 31, 2018 for an elegant celebration.
Their pre-wedding Sangeet was a fusion event blending Indian and Southern culture. The entire event took place at Monday Night Brewing. Highlights include fusion cuisine prepared by using Indian and southern flavors and ingredients.
The wedding was held in the late evening. Traditional baraat and nagaswaram music were played and outstanding performances as well as the DJ stole the hearts of guests.
The mandap was designed simply but with an elegant touch. The groom arrived at the wedding venue riding atop a white horse escorted by a Black Rolls Royce. Vasant entered with his parents and cousins with the Bollywood song "Nagara Sang Dhol" playing in the background. Jana made her entrance accompanied by her father to Bollywood song "Tere Bina."
The reception hall was decorated in touches of purple and gold with an array of flowers and orchids adding to the unique and classy ambiance. Vasant and Jana performed their first dance to "London Thumakda." American and Indian hit fusion songs were played throughout the reception with all guests performing dandiya to their heart's content.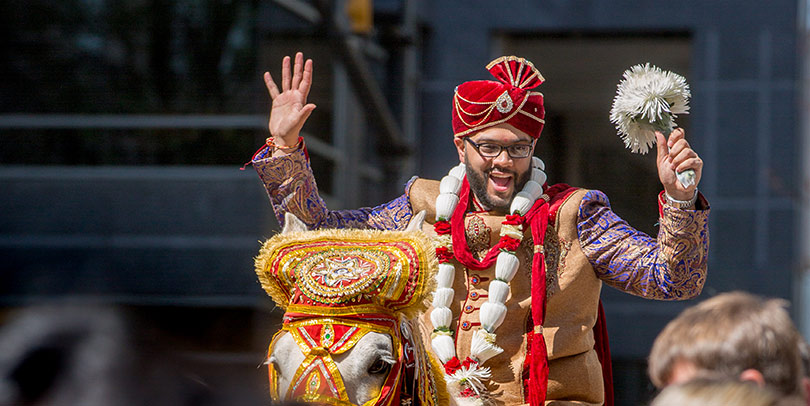 ---
BANQUET HALLS Monday Night Brewing 404-352-7703 | W Atlanta Midtown 404-892-6000 | BEAUTICIANS-COSMETICIAN Crystal Nix Beauty 678-428-6694 | Erica Bogart Beauty 404-375-1262 | Gunn Glamour 678-558-7637 | BOUTIQUES Image Boutique Shop by Surinder Bedi 678-571-8847 | CAKE Picasso Cakes by Celso 678-756-4263 | DECORATOR Sterling Decor 678-570-4971 | DISC JOCKEY Nice Entertainment 404-396-7303 | EVENT PLANNER Envi Event Planning 864-907-2003 | HORSE AND CARRIAGE Nottingham Shire and Carriage For Hire 404-622-0526 | MEHNDI Bridal Allure by Aarti Amin 678-717-7303 | PHOTOGRAPHER Peter Togel Photography 404-647-6476 | RESTAURANT/CATERING Amara Kitchen and Bar 470-305-7405 Cafe Bombay 404-320-0229 | VIDEOGRAPHY Scott Belanger Films 404-431-9116 |
---