Ekal Vidyalaya Atlanta Chapter raises $22,000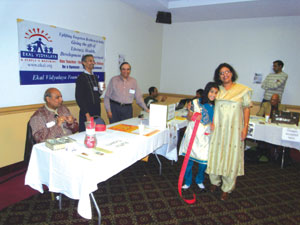 Ekal Vidyalaya Foundation's Atlanta chapter celebrated its fund raising event with musical evening entertainment on Friday Dec 2nd at the Impact Conference Hall in Global Mall. Various groups like KA Dance Academy, Sham-e-Sargam, and Nritya Natya Kala Bharat and Sargam (music group) performed and made the evening magical along with the individual & young talents like Ajay Upadhyaya, Sneha Chaturvedula, Vidushi Gupta added flavor to the night and entertained over 200 well-wishers, sponsors, friends and supporters. It was a very successful fundraising night raising $ 22,000 supporting 60 Ekal schools.
Program started with the dinner catered by Ashiana Restaurant. VHPA was generous to provide hot tea after the dinner and Global Mall owner, Shiv Aggarwal provided the hall, manpower to arrange the event and lot more. Films showing current Ekal schools and activities were screened during the dinner hour.
The entertainment segment started at 7 pm with lighting of Diya by Smt. Gayatri Subramanian co-founder of KA Academy of Indian Music & Dance. Sherin Peter, a senior disciple of Gayatri Subramanian performed "Pushpanjali", a traditional invocation in Bharata Natyam followed by Ganesh Sthuthi and Lord Shiva.
There was a new concept of Kinder choir – a kids' choir performed to original music pieces built on the building blocks of Indian Classical Music. This innovative choral music workshop designed to kindle the musical artist in every child, has been orchestrated by C.V.Subramanian, the music director of KA Academy of Indian Music and Dance.
Kumud Savla then showcased the talent of her students from Nritya Natya Kala Academy. The stage was a panorama of color as her disciples Man – Mohini's danced to "Rang De Mujhe Rang De", her other students did the Bhangra dance on "Rang De Basanti" from Rang de Basanti movie.
Shyam Gupta, Rekha Pallath and several other members of Shaam-E-Sargam group of Music presented popular solos and duets songs.
Ekal volunteer, Radhika Suda charmingly emceed the show and solicited school sponsorship. The event was assisted by SEWA volunteers who efficiently completed the secure online transactions for donors who wanted to sponsor schools by credit card.
Southeast Regional President, Chander Aggarwal and Atlanta Chapter President Shiv Aggarwal gave Certificates of Appreciation to the artists and SEWA Volunteers & vote of thanks to all the sponsors, sound system provider Sandeep Savla, Ashiana Restaurant, Ekal volunteers and audience.
Ekal Vidyalaya Foundation of America is registered as S.501(c)(3) tax-exempt non-profit entity. Ekal has been involved in eradicating illiteracy from rural and remote India since 1986. It operates and supports innovative, single teacher informal schools in tribal and rural communities, which lack access to primary education through functional government operated schools. The Ekal movement has helped unite the villages, sparked passion among tribal children for education, curbed social evils such as alcohol consumption, superstitions and empowered villages to become self-reliant through knowledge. Currently there are 36263 Ekal schools in operation in all the states of India with over 897,178 children in rural India.
For sponsoring an Ekal school or for further information about this noble cause that eradicates illiteracy in India, please visit www.ekal.org or mail check directly to Ekal Vidyalaya Foundation of USA, 3908 Westhollow Parkway, Houston, TX 77082