Ekal Vidyalaya South Florida Chapter raises more than $160,000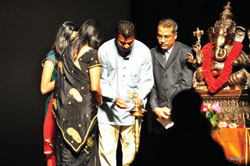 More than 450 people attended "Jagruthi" – Awakening program on Saturday December 3rd 2011 organized by Ekal Vidyalaya South Florida Chapter. The event was a fund raising event and also serve as awareness program about Ekal Vidyalaya Foundation.
The overwhelming support from the audience helped the Ekal foundation to receive sponsorship for about 448 Ekal Vidyalayas. Atal Bansal, Jayachander Reddy and Gummakonda Reddy foundation headed by Shekar Reddy together sponsored 265 schools Gummakonda Reddy Foundation had been one of the long standing supporters of Ekal Vidyalaya South Florida Chapter. The foundation president Shekar Reddy was honored as the "Donor of the Decade".
The event started with an instrumental vocal combined with visual segment "Jaago" – Awake – presented by Dr. S. Ramakrishnan a Professor at University of Miami. He was accompanied by the melodious voice of Madhu Chandrasekar and Dr. Bhagi Sahasranaman, Sanjay Chandran on Violin, Saheelan Sinnarajah and Branavan Varathan on Mridangam.
Rhythmic Bharatha Nrithyam by Sangeetha Sridhar and her students offered salutations to Shakti the great awakener. Priya Nagaraj and her students gracefully offered salutations to Gurus of all Art forms through a composition by Mridangam Maestro Shri. Karaikudi Mani. Dr. Pratibha Natesan enthralled the audience with her excellent Kathak footwork, expressive movement of the hands and face performing Tatkar in teen taal.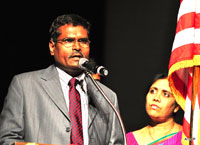 "Moksha" enlightenment: – the highest stage of devotion was very evident in the highly acclaimed Shalini Goel Agarwal's Odissi dance performance. Ekam the concept of oneness was beautifully presented by Madhavi Menon and Reshmi Sunil in their Jugalbandhi of Bharathanatyam and Mohiniattam highlighting the concept of Ardha Nariisvara.
Rhythm really spoke in Madhurima Ghosh and Indrani Mukherjee's effort to fuse the two contrasting styles of Indian and modern dance forms. Madras Masala, choreographed by Jaishri Venkat brought out the transformation of traditional Tamil folk dance and music.
Kitty Rana and her team took the audience to a virtual tour of colorful villages and its rich vivacious culture through "Punjab Diya Heera – Gidda" folk dance of Punjab.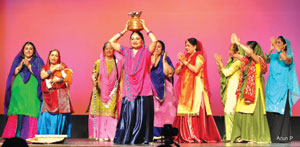 Lavani a lively folk dance of Maharashtra choreographed by Anita Naiksatam was performed to the beats of 'Dholak'. There was also Bollywood Extravaganza choreographed by Gita Dias and performed by her students.
Dr. Prathiba Natesan from Dallas TX hosted an on-stage talk show with two high school students, Pratheek Nagraj and Ellora Sarkar. Pratheek and Ellora sponsored schools with their scholarship / pocket money.
This event was put together by untiring efforts of Radha Narayan, Dr. Subbarayan R Pochi, Ritu Linhart, Vijayalakshmi Ranganathan and Shekar Reddy. By her effortless stage management skills, Ms. Ritu Linhart compered the event. Shalin Mishra kept the audience updated through a "fund raising thermometer".
Anand Studios – an event hosting company free of charge decorated the stage and receptions areas giving a whole new and inviting look.
Ekal Vidyalaya South Florida Chapter raises more than $160,000