Enjoy the Celebration… and Keep it healthy!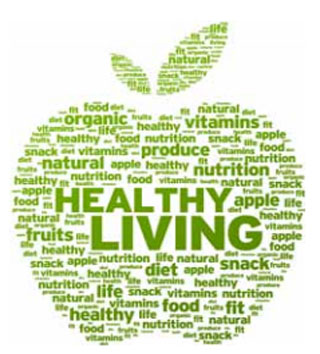 The festive season is here! Navratri, Halloween, Diwali, Thanksgiving … the list is endless this time of year. No doubt each holiday holds a special meaning for you and your family, be it cultural traditions or an outing you do as one unit. For many, our fondest memories of holidays often revolve around food. Not just any food of course, but delicious fried foods and sweet and salty treats that take us back to our youth when Ba, Mumi, and aunties would gather in the kitchen together cooking yummy treats for the masses.
The smells from each holiday are distinct, and your mouth waters just thinking about the ones quickly approaching. Before we get carried away though, it is important remember all the progress made over the year. Maybe you have been working towards achieving a resolution. Continue the progress by keeping the larger goal in mind. That handful of fried puri or tray of chocolate barfi might taste great now, but the lingering effects will be less fulfilling.
Make wise choices. Everything in moderation means just that. You don't have to say no to every sweet you pass by. Choose one and enjoy it thoroughly! And don't forget to stick to your usual exercise routine. If you do, eating just one won't be the end of it all.
Adapt old recipes. Do you have a favorite holiday recipe? You don't have to live without it, simply find a way to make it healthful. Swap maida or all-purpose flour for whole wheat (better yet, experiment with oat flour, millet, and spelt). Reduce the amount of ghee or sugar needed, and find natural, low-glycemic substitutes.
Create new recipes. Seek out healthy versions of your favorite recipe or create your own. Experiment with your kids to get them involved, and over time, these will be your new go-to recipes. Look for recipes with reduced oil/ghee, sugar, and carbohydrates. Incorporate fiber and natural foods into your recipes.
As we enjoy another holiday season with friends and family, let's try to keep it healthy. Embrace the time you spend with family. Create new traditions and help your children make lasting memories about the meaning of the holiday.
Roasted Chickpeas
When roasted, chickpeas are crunchy, nutty, and simply delicious. Using the basic recipe noted, this can easily be adapted – use your favorite spice mix and adjust the spininess to your own taste.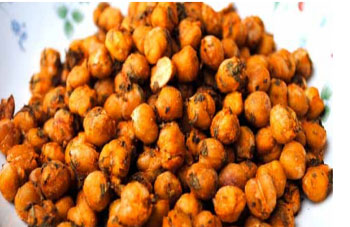 Ingredients
2 cups cooked chickpeas or 1 can chickpeas, rinsed and drained
1-2 tablespoons olive oil
1 garlic clove, minced
1 teaspoon yellow curry powder
1 teaspoon garam masala
⅓ black pepper
½ teaspoon coarse salt
Directions
Preheat oven to 400 degrees F. Line a baking sheet with aluminum foil.
In a bowl, mix the spices and garlic together.
Place the chickpeas in another bowl and drizzle with just enough olive oil to coat. Stir in the spice mixture and be sure all chickpeas are evenly covered.
Spread the mixture in a single layer on the prepared baking sheet.
Bake for 20 minutes, stir, and bake for another 20-25 minutes, until they are crispy on the outside but still soft on the inside.
Cool to room temperature before serving.
Variations
• Simple: Sea salt, black pepper, and lemon juice
• Italian: Garlic, Basil, oregano, and parmesan cheese
• Sweet: Drizzle of honey or agave and cinnamon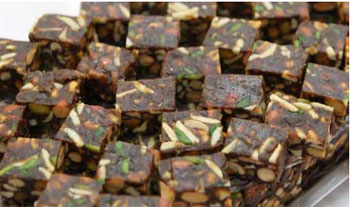 Make it Your Way Barfi
Who doesn't love barfi? The beauty of this recipe is that no added sugar is needed … and dried fruits such as figs, dates, and apricots are an excellent source of fiber and much-needed minerals. Freshly ground spices make all the difference in recipes like this also. These little gems are not just for Diwali, keep them around for a healthy snack anytime!
Ingredients
1 ½ cups dried figs (or even dried apricots)
1 cup dates
1 ⅓ cups nuts of your choice, toasted (walnuts, pistachios, or almonds are a great choice)
⅓ cup raisins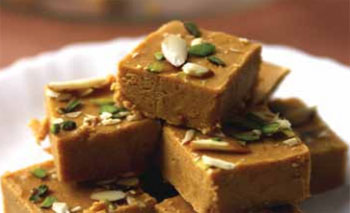 ¼ cup chia seeds
½ teaspoon freshly ground cardamom
¼ teaspoon freshly ground nutmeg
1 tablespoon grapeseed oil (or ghee if you're feeling daring!) crushed coconut for garnish
Directions
Before beginning, soak the figs and dates in hot water for 10-15 minutes. Drain and pat dry.
Next, add the dates, nuts, raisins, and chia seeds to the bowl of a food processor. Pulse until the nuts are small pieces, but not finely ground. Place aside in a bowl
In the same food processor bowl, grind the figs (or apricots) into a smooth paste. If softened, no water will be needed.
Heat the oil (or ghee) in a skillet. Add the fig paste, mix well and saute for a minute.
Add the date/nut/raisin mixture and combine well. Add the ground cardamom and nutmeg, mix well, and cook for a minute.
Pour mixture into a prepared tray (greased with grapeseed oil or ghee). Spread evenly with a spatula. Cool the barfi completely, then place in the fridge for half an hour. This will make it easy to cut into squares or shapes of your choice.