Famous Bollywood Stars in Atlanta, Miami & Orlando
Himesh Reshamiya
In the subsequent years, Reshammiya rendered hit music in a number of films that made good business like Hello Brother, Dulhan Hum Le Jayenge, Humraaz, Chura Liyaa Hai Tumne and sorts. But, it was again a Salman Khan starrer Tere Naam that pulled him from the category of also-ran to the big league...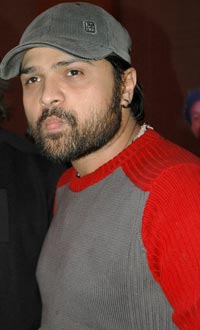 Love him or hate him – but you just cannot ignore him ! It is simply impossible these days to miss him crooning in his quintessential nasal voice "Jhalak dikhla ja…" or "Aashiq banaya aapne..". He is everywhere ! He is … Himesh Reshammiya !
With his unique fashion statement of wearing a baseball cap and in a pair of jeans with the trademark stubble, this music director-turned-singer of the Hindi film industry is indeed on a high! His ubiquitous presence on the celluloid and his rocking chartbusters being played incessantly at the roadside eatery to the elite pubs and discos alike is an absolute measure of his popularity and the hysteria he has been able to generate among the masses.
But the road to success for this new youth icon of Indian Music has not been a bed of roses. Presently in his mid thirties, Reshammiya has been associated with Hindi film music for the last ten years. Though in the initial years, he was able to provide some popular scores, yet the failure of the films at the box office underrated his performance. It was only in the year 1998 that his music in the Salman Khan 's Bandhan got the critical acclaim.
In the subsequent years, Reshammiya rendered hit music in a number of films that made good business like Hello Brother, Dulhan Hum Le Jayenge, Humraaz, Chura Liyaa Hai Tumne and sorts. But, it was again a Salman Khan starrer Tere Naam that pulled him from the category of also-ran to the big league. The phenomenal success of the soulful music of the film inspired this talented composer to create further catchy chartbusters for films like Aitraaz , Bardaasht, Dil Maange More, Taarzan – The Wonder Car, Aashiq Banaya Aapne, Maine Pyar Kyun Kiya, Aksar, Banaras – A Mystic Love Story and the likes.
Versatility has always remained a key to success of Reshammiya's compositions. He has been able to incorporate the extreme nuances of music like semi-classical ('Tere Naam'), sufi rock (in his album 'Aap Ka Saroor'), pure classical ('Banaras'), and pop ('Aksar', 'Tom, Dick and Harry' and 'China Town') in his various musical projects and thus captivated his audience with own distinct style of music.
Despite all his recent success and fame as a music director, Reshammiya became the talk of the town with his vocal rendition of the song "Aashiq Banaya Aapne …" from the film Aashiq Banaya Aapne. His typical nasal voice became an instant rage and he went on to win the award for Best Playback Singer (Male) in almost all the popular film awards ceremony in the year 2005 for this song. Encouraged by the accomplishment, Reshammiya is making it a point to playback at least one of the most catchy numbers from his composed film music. The craze involving his latest song "Jhalak Dikhla Ja.." from Aksar indeed bears a testimony to his correct decision.
A man of many facets, Reshammiya has also gained immense popularity by virtue of his role as the judge and the mentor to a team of promising singing potentials in Zee TV's highly popular Indian musical contest show Sa Re Ga Ma Pa Challenge 2005.
It is also being heard that he has been chosen over others to compose music for Ram Gopal Verma;s remake of "Sholay", where Reshammiya will also sing on screen the famous "Mehbooba Mehbooba" song – earlier rendered by the legendary R.D Burman. rguably one of the more consistent music composers of today, Himesh Reshammiya 's music is associated with the youthful and trendsetting culture that has recently been pervasive in India. Having composed music for more than 50 films till date and with his hands full with upcoming projects, Reshammiya has been absolutely successful in carving a niche for himself in the Hindi film industry.
It is hence no wonder that his vibrant youthful numbers do not only make the young, hip and the hype generations dance to its tunes but also invites considerable interest from the phantoms and spirits – as was reported from a village in Gujarat, where his foot tapping song "Jhalak dikhla ja, tu ekbaar aaja, aaja, aajaaa.." was banned as whoever listened or sang the song was found to be possessed by ghosts !
Goodness gracious ! Where else can we find such a gifted and talented composer with such a far reaching voice that it transcends the boundary of life and death and even make the ghosts come out to shake a leg !
Alisha Chinoi
The Baby Doll has done it again !
Alisha Chinoi – the mercurial singer and the uncrowned queen of Indipop music has been able to rekindle the euphoria about her vocal prowess through her "Kajre Re" song from the film "Bunty aur Babli" in the same manner that saw her reaching the heights through the solo album "Made in India" in the year 1996.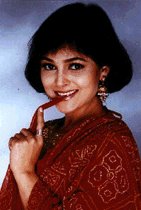 Though often regarded as whimsical, eccentric and controversial in terms of her attitude and way of life, very little criticism can actually be made about her ability to sing and deliver chartbuster numbers in both the film and non-film type of music. She has been a pioneer of Pop music in India and has set new trends in Indipop genre – which are now followed and treaded by several others. On the other hand, her tryst with playback singing for Hindi film has a longstanding background and she is remembered for a number of extremely popular and memorable songs rendered over the years.
Born to a musically inclined family in the year 1972 as Sujata, Alisha's distinctively unique vocal ability, stunning looks and charisma have added up to make her an instant hit both on stage and on screen. She made her first playback in the year 1985 at the age of 13 for the film "Tarzan". Since then, over the last 20-odd years, Alisha has been an important member of the Hindi Film music fraternity and have given several hit songs in blockbusters like Mr. India, Dance Dance, Ram Lakhan, Tridev, Khiladi, Phool aur Kaante, Khuddar, Thaksak, Pyar Tuune Kya Kiya, Murder, Aitraaz, No Entry and the unforgettable Bunty aur Babli. Though Alisha had been able to deliver at least a trendy hit every year to the film industry, yet catapulted by the success of "Kajra re" – she is at present, enjoying a successful stint as an established and much-in-demand playback singer for Bollywood movies.
In spite of her relatively consistent accomplishments in film music, Alisha is always remembered and hailed in Indian Music scenario for her contributions in the Non-film music, esp. the Indipop segment. She entered into the Pop music when there were hardly any takers and it was for her pioneering efforts, Indipop music has become a rage and reached every corners of the country. Alisha has more than ten solo albums to her credit – the notable ones being "Baby Doll", "Jadoo", "Aa-Alisha" , "Madonna", "Kamasutra" and obviously, the rocking one of all times –"Made in India". The success of the album has been largely instrumental in making Alisha a household name, as "Made in India" which was composed by Biddu created history in Indian Music by making a stupendous sale of over 3.5 Million copies till date.
With an astounding cumulative sale of over 10 Million copies of her albums to her credit, Alisha is truly and undoubtedly India's 'the only international pop star'. She has received various national and international awards and accolades that include the prestigious International Billboard Award and the Freddie Mercury Award for Artistic Excellence. Her song "Seulement Vous" ended on the first place at the International Song Festival "Asia 2004 – the first ever by any Indian. Back home, Alisha had been in the thick of things at every film award function in 2005, as she received the Best Female Playback Singer award for "Kajra re".
Alisha is not only versatile in her vocal renditions – rendering everything from folk, sufi, bhangra, techno, jazz and the likes ; but she has more things to dabble at other than music. She has made a name for herself in the advertisement arena, and have also participated in stage plays ("Evita"), and acted in a few films ("Trikaal").
The journey of the svelte and sensuous Alisha from being a 'Baby Doll' to 'Indian Madonna' to the "Kajra re" girl is marked with ups and downs, and certainly fraught with controversies and scandals – but her greatest achievement remains to emerge victorious from the downs and take the failures at her strides. She has shown time and again that despite her whimsical attitude and her controversy-prone nature, she has in her the capability to deliver the best and be an unputdownable personality in terms of contribution to Indian Music.
Abhijeet Sawant
A third year Commerce student at a Mumbai College, the son of a Municipal Corporation employee and staying in a lower middle class area in the city, this boy used to dream to be successful singer at the national level.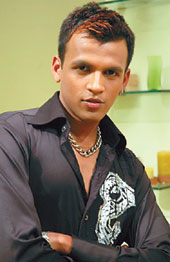 He sung at local functions and often used to accompany his uncle's orchestra group at various stage shows. He got himself trained in classical singing from his Guru Bhavdeep and was making futile attempts at the doors of Music Composers for a pertinent break.
One day, he is informed of a television channel's reality music contest and he decides to take part. Within six months, the boy gets infinite times more than what he had ever dared to think of. He got crowned as the newest idol of Indian music, got a Rs. 1-crore contract from the channel, a luxury car, a trip to abroad and above all, nationwide fame and overnight stardom. He gets to wear the latest designer clothes, moves with bodyguards, stays at the luxurious hotels and sings to jam packed concerts where the masses are swooning to his tunes, simply hysteric to catch a glimpse of this talent.
Anyone can pass off this story as another Bollywood potboiler, if he hasn't heard of Abhijeet Sawant.
Life has indeed been a rags to riches story for this Mumbayite, who became the first ever Indian Idol in the musical hunt competition sponsored by Sony Television. The program has been a trend setter and a landmark in the Television history as the entire nation glued to their sets to witness the enthralling battle of the voices and has sent over three crores of votes through phone calls and 'sms'es to register their preferences. Ultimately, it was Sawant who made it to the top by virtue of his smooth, controlled and seductive voice, coupled with appropriate facial expressions and body language.
His success at the contest has given him the platform to strike it really big. As it is, Sony Music has him contracted and he has hummed seven numbers for composers like Biddu and Hardeep. Basically, an exponent of Indian Pop music, his solo debut album "Aapka Abhijeet" has sold over five lakh units within two months of release. He is also coming up with music albums in the very near future like "Yaron" with his Indian idol co-participants; and another one with composer Jassi, where Sawant will match his singing skills with other stalwarts like Shaan and Kailash Kher.
On the Hindi film music scene, Abhijeet Sawant is also slowly and gradually making a mark for himself. While he has already done two films – one with composer Himesh Reshammiya and the other one with Sanjeev-Darshan duo for a Deepak Tijori film, where Sawant will do a solo and a duet with Shreya Ghosal; he is having a number of upcoming projects in hand.
Sawant is also extremely busy on the stage shows front too. Apart from the shows in different places of India like Mumbai, Chandigarh, Kolkata, Delhi and the likes, Sawant has future shows scheduled in the US and the UK too.
Abhijeet Sawant has shown to the world that with determination and perseverance one can indeed achieve miraculous success in life. His own story is a genuine output of the combination of luck, talent and hard work. It is in the best interest of this highly talented singing potential that with his down-to earth approach, self belief, confidence and resolution, he has a long and prosperous future in front of him and it is most certain that the Indian Music industry will be richly benefited by his contributions.
Famous Bollywood Stars in Atlanta, Miami & Orlando