Fan's Letter Leaves Big B Emotional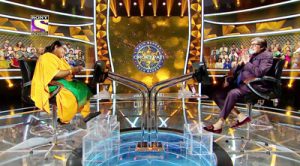 Living legend Amitabh Bachchan has received a bounty of awards, accolades and admiration throughout his acting career which is very active even today. However, a note of appreciation, a letter praising his compassionate and human character left him completely drowned with emotion. It took place in one of the episodes of Kaun Banega Crorepati's current season. Big B is hosting KBC Season 14 at present and a contestant named Jyotirmayee Mallick from Odisha read aloud a letter that she wrote for him.
Kaun Banega Crorepati has been a very popular reality show that features common people participating in quizzes with host Amitabh Bachchan. His style of conducting the show, close interactions with contestants of all age groups and extremely courteous gestures have made the show popular along with showering praises on Big B. The promo of the show with Jyotirmayee Mallick in the hot seat is being shared by the channel on their Instagram handle.
Jyotirmayee Mallick is from Odisha and works in the postal department. She wrote a letter to Bachchan which she read in the show. It starts with the salutation of Respected Amitabh Bachchanji and narrates how nice a person he is. The writer says that she doesn't know whether she will be like him ever, but the superstar has proved that he is someone among them. All his gestures like pulling the chair for the contestants, wiping their tears and reaching out to the contestants have proved that. She also wrote that she thinks a superstar like Big B is born once in a generation. The emotional Bachchan folded his hands in gratitude and said that this message made him emotional.
Kaun Banega Crorepati
KBC Season 14
Amitabh Bachchan
Jyotirmayee Mallic