First Sikh woman to graduate from US Military Academy
Anmol Narang becomes the first Sikh to graduate from the American Military Academy. She
concluded a four-year course in nuclear engineering from the West Point Military Academy,
New York. Narang looks forward to working in the field of air defense systems. President Trump
was present at the Graduation Ceremony.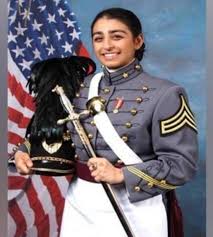 After graduation, she will have to pursue the Basic Officer Leadership Course (BOLC) at Fort Sill, Oklahoma. Hereafter, she can join the US Air Force. Narang's first posting will happen in Okinawa, Japan in January 2021 at an American airbase.
Expressing her happiness over the achievement Narang told the American NGO Sikh Coalition, "I am very excited and happy to complete my graduation from West Point Academy. I feel honored. Georgia's Sikh community helped me to move forward and boosted my confidence. It means a lot to me. By achieving this goal, I am showing the way to other American Sikhs that they can make a career in any field."
Born in a Sikh family in Georgia, Narang is a second-generation immigrant. Her primary studies took place in Georgia. She is inspired by her grandfather who served the Indian Army. When she attended high school, her family went to see the Pearl Harbor National Memorial in Hawaii.
After that, she started preparing to apply to the West Point Military Academy.