Gandhi Giri-Resurrected
The world is full of revolts, public outrages and wars. Civil uprisings sweep across many countries. The virus of revolution stemmed in Yemen and in no time took most of the Middle East in its grip. India is no exception. Nonetheless, her approach is exemplary.
Non-violence is a weapon of the strong. – Mahatma Gandhi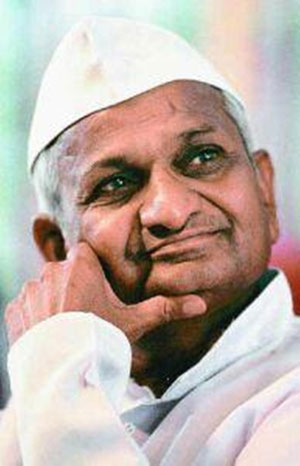 It has been 65 years since Gandhi was assassinated. His relentless non-violent struggle made the British leave India and let its citizens live with dignity. An unmatched hero in global history, Gandhi's fan-following keeps burgeoning to this day with names like Mandela and Obama. And even before we thought that Gandhigiri was an archaic concept in modern times, history repeated itself. Today, yet another Gandhian has called upon Indians to reclaim their right to real democracy. Social activist Anna Hazare's hunger strike until death, to usher in a corruption-free society – with transparency and accountability as hallmarks, is finding new takers from among the masses every day. Braving the heat, power cuts and hunger, many dedicated Indian souls held their fast in support of the corruption crusader's demand. As a result, the government had to pay heed to the 73-year-old social activist's demands regarding the Lokpal Bill. The common man won! The palpable question here is: does non-violence serve as a mighty tool in the 21st century as well? The evident answer is: sure, it does. Like other countries, India too wants its elected representatives to be servants of the people and be truly accountable to them. However, no nation has set a greater symbol like the coercive non-violent protest in India. While the deadliest of weapons might fail to deliver desired results, peaceful non-cooperation from a civilian is known to yield results since the struggle-days of India's independence. Such quiet yet powerful protests often write new, glorious chapters in the text of history. India's told and untold experiments with democracy speak loads about the valor of non-violence and Gandhian philosophy. There's something so charismatic about Gandhigiri that though the people who adopt it come from nowhere, they take over the masses with time, cause an emotive storm and simply pull the mighty straight to the ground. Hazare's call for an unshakeable movement against corruption resonates with various sections of the society. From film stars to daily wage earners, from corporate leaders to timid housewives, from timid housewives to irate professionals, and from school-going children to silver pensioners, all are together in the figh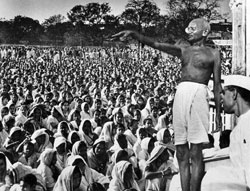 Global Problem
Protests occur everywhere – some by individuals, some by groups, some peaceful and some violent.
Is it that the world is getting restless? And if it is, then it's time for upheavals as there are huge concerns affecting mankind. If people don't raise their voices when they are most affected, then modernization, development and progress are just euphemisms for the Internet, satellite television and cellular phones! There is something poignant about these modern day protests. The very fact that a septuagenarian could inspire a group of yuppies to fast and a severe Islamic dictator could do little to keep women indoors outlines how today's population the world over can stand up for its values and beliefs. There are more similarities between what happened in India and what is taking place in the Middle East. The Indian political system, especially the government in power was taken by surprise at the power of the Hazare movement. Likewise, Mubarak and Gaddafi, although they knew things were brewing, were not prepared for the epic proportions of the protests against them. Besides, the protests and demonstrations multiplied and spread through the countries overnight, giving each government minimum reaction time. In the Hazare movement, thousands of people from students to teachers to retired government employees to activitists, joined the fast-unto death anti-corruption movement, and politicians were forced to reckon Anna's demands and buckle under pressure. Support for the Anna grew online in monumental proportions highlighting how Indians thought of doing his or her own bit either online or offline. Outside of India, it probably took one call for thousands to gather at the Tahrir Square and Pearl Square to demand government-led reforms. The internet played a similar role in the Middle East protests – viral revolution has gone global. Given India is a democracy, the government cannot resort to using military power to quash non-violent protests. In the Middle East, pro-governmental protestors clash with anti-regime activists and protests have become violent claiming several lives. This is where the dissimilarity ends. People everywhere, from Anna to the protestors in Syria, Libya, Bahrain and Egypt are demanding permanent reforms that improve the quality of life. They can now see the difference between assuaging false government promises and actual reforms. Most importantly, they are more than ready to protest regardless of whether they exist in a democracy or not. Though on the surface Anna Hazare's ideology and the dogma the Middle East wants to promote and protect differ, at the end of the day everyone wants the same things-the right to dignity, to free-dom of thought and movement and to elect leaders who can be respected.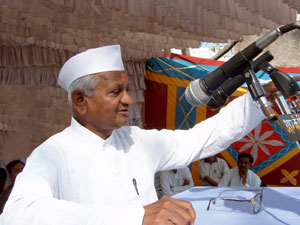 Youth Speak
Youth have become the beacon of change and are energized. The middle-class suddenly rises to prominence. "It's high time now. I have to do my bit towards making my country a better place," says 27-year-old corporate lawyer Ashish Porwal who participated in the hunger strike at Jantar Mantar in New Delhi last month. Housewife Shilpi Agarwal has never felt more important in her life. "Having got the chance to join in a national cause has boosted my morale. The Hazare movement has made me realize that I too can initiate a big change in my country," says the enthused Agarwal. However, it's intriguing to note how Indians, breathing in an environment of global unrest and turbulence, are convinced that non-violence can galvanize the whole nation around sensitive issues. "No desirable result can be achieved by adopting violent means. Anna Hazare is a great inspiration for the youth of India," acclaims actor and ardent supporter of the Hazare movement, Aamir Khan. Gradually assuming unprecedented levels, this non-violence movement is one burgeoning pressure that is slowly beginning to shake the roots of malpractices in the country. "Non-violence is indeed a huge step toward making India a real model of democracy," says culture commentator and corporate trainer Amit Sadana. Indian youngsters who have joined in the movement hold the notion that violence doesn't attract people from every section of social existence. It attracts just a certain group of people. "What I like most about non-violence is that masses are driven towards it. From a semi-literate civilian to a coterie of NGOs, all feel part of the national movement at different levels," says 21-year-old Flaura Shukla.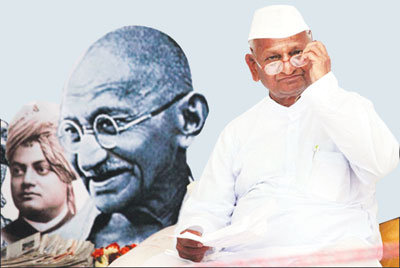 Modern Gandhi
Gandhian Anna Hazare is a calm man of strong character, flawless integrity and a pleasing smile. Once an Army man who served in the 1965 Indo Pak war, the Modern Gandhi is no stranger to hunger strikes, protests against government and even serving a jail term. He first sat on a hunger strike demanding the sacking of 42 forest officers accused of corruption. This was followed by many such strikes and protests. Anna was jailed in 1998 following a defamation suit after he made allegations of corruptions against Shiv Sena ministers. In 2003, two NCP ministers, Suresh Jain and Nawab Malik were forced to resign after Anna went on a indefinite hunger strike against their alleged corruption. Hazare is particularly famous for fighting corruption in Maharashtra.
Food For Thought
Father of the Nation, Mahatma Gandhi held the opinion that we may never be strong enough to be entirely nonviolent in thought, word and deed. Still we must keep nonviolence as our goal and make strong progress towards it." Thinkers and philosophers from all ages and countries have sworn by the effectiveness of the 'peace tool.' In the words of American activist Cesar Chavez, "Non-violence is not inaction. It is not discussion. It is not for the timid or weak… Non-violence is hard work. It is the willingness to sacrifice. It is the patience to win." American civil-rights leader Martin Luther King, Jr. said "Nonviolence is the answer to the crucial political and moral questions of our time; the need for mankind to overcome oppression and violence without resorting to oppression and violence. It is a powerful and just weapon which cuts without wounding and ennobles the man who wields it. It is a sword that heals." Setting an apt example for a world that resorts to conflict and mass destruction to fight for various causes, the Hazare movement is seeking a revolution on the lines of noble reforms and writing a history in which future generations can take pride.