Global Gurudev
An ode to the Nobel laureate, poet, dramatist, philosopher, educationist,
composer and painter Gurudev Rabindranath Tagore
– by Lovejeet Alexander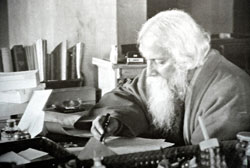 Calcutta-born philosopher-poet-painter Rabindranath Tagore was one of the best known international figures of the intellectual world in the initial decades of the 20th century. Although Tagore, popularly known as Gurudev, wrote primarily in Bengali his popularity could not remain restricted to the boundaries of the land. To this day, fondness for his work spreads far and wide, even to lands far distant to his birthplace. Tagore's reputation as a writer was established in the United States and in England after the publication of Gitanjali. The introduction of Gitanjali was written by William Butler Yeats. Tagore's poems were also praised by Ezra Pound and drew the attention of the Nobel Prize committee. After meeting Tagore in 1912, William Butler Yeats told Ezra Pound that Tagore is someone "greater than any of us." Arguably Tagore was the most widely travelled poet in the world. During his tours, he received ovations and honors that few creative artists had the good fortune to receive in their lifetime. Between the years 1916 and 1934 he travelled widely. During his journey to Japan in 1916, he produced articles and books. In 1927, he toured in Southeast Asia. His Majesty, Riza Shah Pahlavi, invited Tagore to Iran in 1932. On his journeys and lecture tours, Tagore attempted to spread the ideal of uniting East and West.
Distant Admiration
Kalidas Nag, an Indian historian who visited Indonesia in 1924 prior to Tagore's visit, was surprised to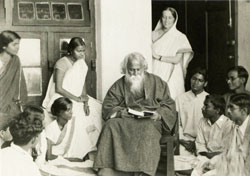 find that Tagore's literature was well known in Java through translations by people like Noto Soeroto. In fact, Soeroto was so enamored by his literary and spiritual guru, Tagore, that he named his son after him: Rawindra Noto Soeroto. Tagore's close friend Soeriosoeparto, a Javanese nobleman, also contributed to the poet's popularity by translating many of the Dutch writings of Noto Soeroto on Tagore. During Tagore's visit to Surakarta he was honored with the opening of a road named after him – 'Tagorestratt'. Fans of Tagore's span the entire globe. Martin Kampchen's Rabindranath Tagore and Germany is a compilation of "the response the poet received from the German scholars and fellow writers." Similarly, Kampchen's Rabindranath Tagore: Four Responses to a Cultural Icon and Kalyan Kumar Kundu's Italy safare Rabindranath and Mussolini prasanga are other publications on Tagore's foreign connections. A Polish anthology of Nobel laureate Rabrindranath Tagore translated from the original Bengali instead of from English, was released recently n Poland. Ambassador Deepak Vohra, while releasing the book in Poland said, "I speak more than ten languages. In none of them can I find words to describe the genius of Gurudev, an outstanding son of India and eminent citizen of the world. His powerful writings, paintings and music have inspired generation across the globe."
Multifaceted Gurudev
At the age of 60 Tagore took up painting. He was also a composer, settings hundreds of poems to music. Many of his poems are actually songs and inseparable from their music. Tagore was the only litterateur who penned the national anthems of two countries. His Jana Gana Man is the Indian national anthem and Amar Shona Bangla became the national anthem of Bangladesh. Only hours before he died on August 7, in 1941, Tagore dictated his last poem. His written works, still not completely collected, fills nearly 30 substantial volumes. The Republic of China was established in 1911 and Tagore, after his 50th birthday, started on his momentous tour with the English version of his Gitanjali. In his third foreign tour of 1912-13, the poet came in contact with many Asian students and some of the early translations of the Gitanjali were published in Chinese and Japanese. Few know that Tagore was even given a Chinese name, Chu Cheng-tan, when he was in China.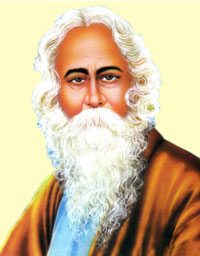 Beyond Boundaries
Rabindranath Tagore is not only a poet of West Bengal, India, he is also honored and respected in Bangladesh. Many of his literature were written in Bangladesh territory, in Shilaidaha and Sajadpur. As he wrote the anthems for both neighboring countries, the Indian and Bangladeshi governments are preparing to celebrate Rabindranath's 150th birth centenary in 2010-2011 in a befitting manner. A project jointly launched by India and Bangladesh aims to dramatize some of Tagore's short stories, novels and poems into an anthology of 24 plays. 'Rabindra Sahitya Natyayan' (Dramatization of Tagore's Literature) is part of a literary outreach campaign to make the poet relevant to the masses on his 150th birth anniversary. Indian Culture Secretary Jawhar Sircar says "We have undertaken an extensive dramatization of Tagore's poetry, novel and short stories so that they are remembered as performances in an age when more people hear and see than read." Ten young playwrights from Bangladesh and 14 from India will "delve into the treasures and convert them into dramas." The project is being supported by the International Theatre Institute, a global theatre platform that promotes theatre for world peace and as a means of cultural exchange under the umbrella of UNESCO.
Where the mind is without fear and the head is held high
Where knowledge is free
Where the world has not been broken up into fragments By narrow domestic walls
Where words come out from the depth of truth
Where tireless striving stretches its arms towards perfection
Where the clear stream of reason has not lost its way
Into the dreary desert sand of dead habit
Where the mind is led forward by thee
Into ever-widening thought and action
Into that heaven of freedom, my Father, let my country awake