Gauahar Khan & Zaid Darbar Celebrate Pre-Wedding with Dhol
Gauahar Khan and Zaid Darbar married on December 25, and they began the festivities with a pre-wedding celebration each day prior. In one of the events, the celebration includes the couple dancing to the beats of the dhol, a rather traditional way since others would have opted for full-fledged DJ or a band.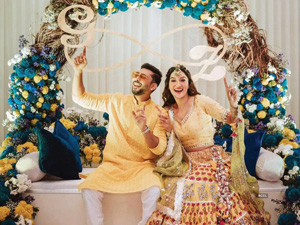 Gauahar wore a yellow lehenga topped with floral jewelry. Zaid matched her with a yellow kurta for the Chiksa ceremony. Gauahar always believes in being well-dressed and some consider her a true fashionista in addition to her acting talents that led to her being the winner of Big Boss 7. Family and friends were in attendance. Gauahar's mother showed a bit of emotion while her daughter danced with her father.  As is to be expected, photos and videos are doing the rounds of social media and are being shared by friends, fans and admirers. Gauahar met Zaid at a grocery store and it was love at first sight.
One thing led to another and now they find themselves getting married with great anticipation. COVID-19 dampened the spirit, but the two and their few friends in attendance are quite ebullient. Still many others wish they too were part of the invitees! 
The charming and affable Gauahar had earlier bonded quite well with Zaid's sister, as photos from their Dubai trip show. The couple is sourcing wedding finery from Manish Malhotra.
Click Here for More
Guahar Khab
Zaid Darbar
Christmas
Pre-Wedding
dhol
DJ
Lehenga
Chiksa ceremony
Bigg Boss 7 winner
floral jewelry
love at first sight
Covid-19
Dubai trip
Manish Malhotra