4 South Indian Movies Nominated for Golden Globe Awards
The Golden Globe Awards are the first of the many prestigious events of 2021. Before the Los Angeles based award ceremony, lists of the foreign films that are to be screened were released. Four South Indian movies are included in the Golden Globe movie nominations this year.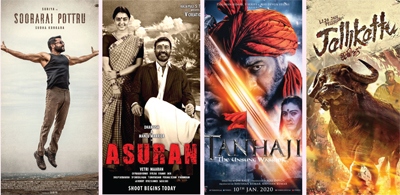 Soorarai Pottru features Aparna Balamurali in the title role. The movie is directed by Sudha Kongara and narrates the life of Captain Gopinath. Soorarai Pottru released in Amazon Prime in November.
Asuran features Manju Warrier and Dhanush in the titular roles. This 2019 movie under the direction of Vetrimaaran claimed four national awards and is a cinematic representation of Poomani's novel Vekkai.
Tanhaji was one of Bollywood's highest grossing movies of 2020. The Om Raut directed war epic is an ode to Shivaji's right hand, the underrepresented Tanhaji who was a valiant warrior. The movie stars Ajay Devgan, Kajol, Saif Ali Khan and Sharad Kelkar in lead roles.
Jallikattu is India's official submission for the Oscars. This is a Malayalam movie directed by Lijo Jose Pellissery. The movie stars Antony Varghese, Sabumon Abdusamad, Chemban Vinod Jose and Santhy Balachandran in the lead roles.
Here are a few other Indian movies to be screened during the award ceremony:
The Disciple is a Marathi drama movie edited, directed and written by Chaitanya Tamhane. The film features Arun Dravid, Kiran Yadnyopavit, Aditya Modak and Deepika Bhide Bhagwat in title roles. The movie was featured at many international film festivals including the Toronto International Film Festival and the Venice International Film Festival.
Harami, directed by Shyam Madiraju is a modernistic translation of Charles Dickens' novel Oliver Twist. The movie is a statement on the serious power struggle amongst different classes of people in the society.
Anurag Basu's Ludo is a black comedy film that deals humorously with the subject of crime. The movie features Sanya Malhotra, Pankaj Tripathi, Abhishek Bachhan, Fatima Sana Shaikh, Pearle Manney and Rohit Saraf.
Aise Hi is the first work of debut director Kislay. The movie narrates the tale of an old Indian woman who decides to live life for herself.
Trees Under the Sun is a Malayalam movie that is directed by Bijukumar Damodaran. The film stars Prakash Bare and Indrans in title roles. The movie is called Veyil Maranangal in Malayalam.
Click Here for More
Golden Globe Awards
South Indian Movies
Soorarai Pottru
Aparna Balamurali
Sudha Kongara
Captain Gopinath
Amazon Prime
Asuran
Manju Warrier
Dhanush
Vetrimaaran
Poomani
Vekkai
Tanhaji
Highest grossing movies of 2020
Om Raut
Ajay Devgan
Kajol
Saif Ali
Sharad Kelkar
Jallikattu
Oscars
Malayalam movie
Lijo Jose Pellissery
Antony Varghese
Sabumon Abdusamad
Chemban Vinod Jose
Santhy Balachandran
Indian movies
The Disciple
Chaitanya Tamhane
Arun Dravid
Kiran
Yadnyopavit
Aditya Modak
Deepika Bhide Bhagwat
Toronto International Film Festival
Venice International Film Festival
Harami
Shyam Madiraju
Charles Dickens
Oliver Twist
Ludo
Anurag Basu
Sanya Malhotra
Pankaj Tripathi
Abhishek Bachhan
Fatima Sana Shaikh
Pearle Manney
Rohit Saraf
Aise Hi
Kislay
Trees Under the Sun
Bijukumar Damodaran
Prakash Bare
Indrans
Veyil Maranangal