Generational Gap Gulabo Sitabo Comedy Trailer Stars Ayushmann and Amitabh
The COVID-19 shutdown is not stopping movie releases. Instead of multiplexes, the releases are slated to go online on Netflix or Amazon Prime Video, and this is the case with the much awaited Gulabo Sitabo comedy.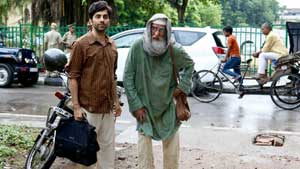 The Shoojit Sircar directed film features two top actors – this generation's Ayushmann Khurana and yesterday's angry young man, now a sweet old man, Amitabh Bachchan. How do the two face off in this comedy? The trailer just released so you can find out for yourself.
Lucknow, specifically the region of Tehzeeb, is the backdrop for the story. Bachchan is a landlord who owns a haveli in which Ayushman is a tenant. Wit is generated as the two sandpaper each other amid sarcasm. Amitabh, understandably wants his tenant to leave and the tenant, understandably, does not wish to vacate the premises. It is a standoff.
The film also features Brijendra Kala and Vijay Raaz among others. Whether the movie will have you rolling in the aisles is one thing. However, it is a vehicle that brings together Amitabh, Ayushman, writer Juhi, producer Ronnie, Cinematographer Abhik Mukhopadhyay and music director Shantanu Moitra. Shoojit claims everyone knows everyone and that makes for fluid production. Amazon Prime will stream the movie beginning June 12.