When Sussanne Khan Could Not Imagine Life Without Hrithik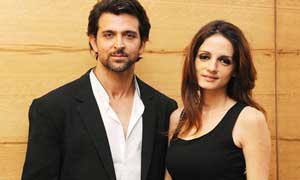 There is a Spanish saying that with time, love passes and with love, time passes. This happens to illustrate the case of Sussanne Khan and Hrithik Roshan. Right up to 2013, it seemed life was a sweet bed of roses for the two, and then up popped a divorce, separating the two. However, they promised to be "good friends".
This is a trip down memory lane when Sussanne became vocal about her kachche dhage ties with Hrithik. The time is 2005. It is a chat show with Karan Johar. Sussanne is heard saying that if Hrithik was not by her side she simply could not move on in life. She, at that point in time, could not imagine a life without Hrithik because she was so deeply attached. It was not until 2013 when the two parted ways and now, in 2020, they have come together during the lockdown to fulfill parenting responsibilities.
Hrithik has shared via Instagram that Sussanne has joined him to ensure the kids enjoy the company of both parents. He thanked her for moving in with him and for being so supportive and understanding. From what can be seen, the two are making the most of an enforced holiday together by sharing meals and quality time with the kids and probably with Hrithik. After all he still retains charm.
Sussanne Khan
Hrithik Roshan
Karan Johar
parenting responsibilities